Watercolor hearts and roses can be combined to make a beautiful design. I have always loved to paint watercolor flower wreaths. They look especially pretty with roses as the focus flower. Roses aren't hard to paint if you follow a few simple steps.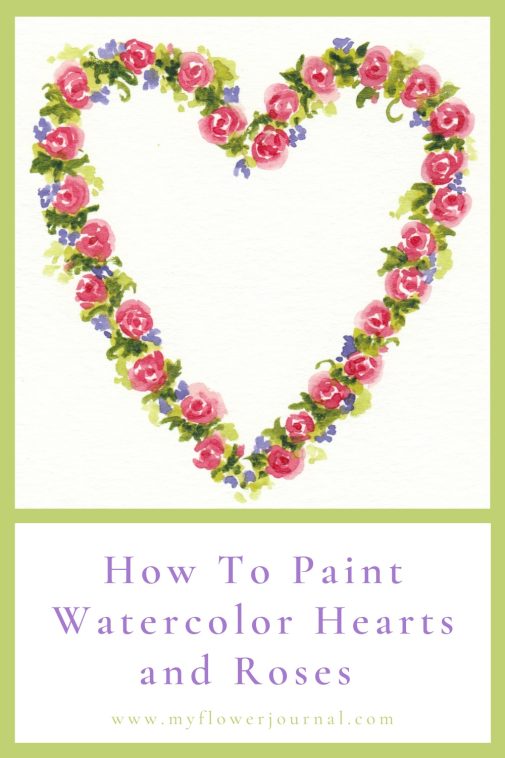 When you purchase through links on this site we may earn a commission at no extra cost to you. This helps us provide free content for you to enjoy.
How to paint a watercolor rose and heart shaped wreath
Supplies:
Watercolor Paper, **Watercolors, watercolor brush or waterbrush, pencil, black pen, heart cookie cutter (optional)
Watercolors: I use the Daniel Smith Essentials Set (a limited palette) plus a few favorite colors for most of my watercolor projects, but there are times when its nice to use premixed colors like the ones found in the Koi Watercolor set.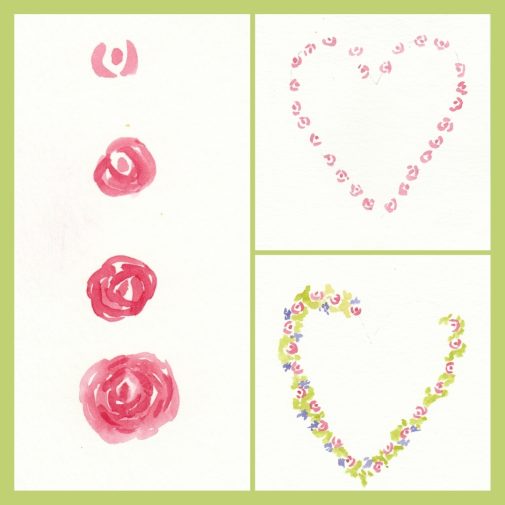 Steps to Follow
1. Lightly draw a heart in pencil on watercolor paper.
2. Place light marks in pink or red for roses. Leave lots of white.
3. Add yellow green dabs of paint around the roses. Don't touch the pink. Leave white space.
4. Add dabs of purple or blue color for small flowers or berries.
5. Add a darker pink layer to roses. Leave white space.
6. Add darker green leaf shapes and dabs. Leave some of the yellow green showing.
7. Soften edges of roses with a light pink wash in a few places.
8. Darken center of roses and any other areas.
9. Darken green and purples or blues if needed.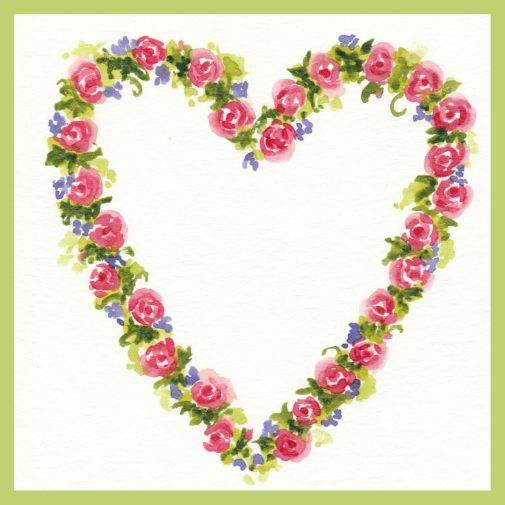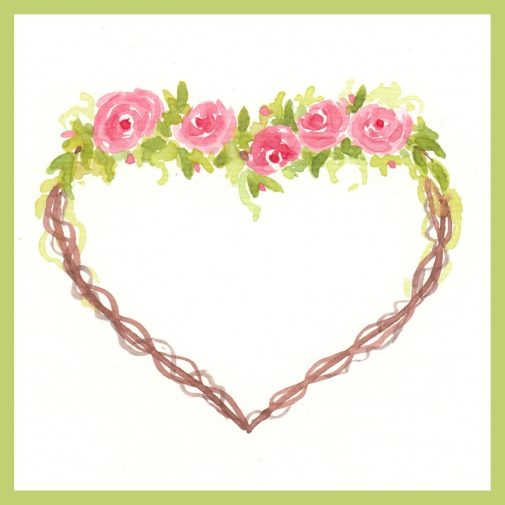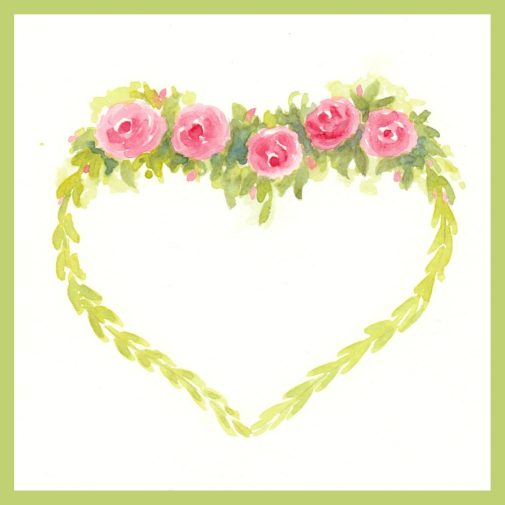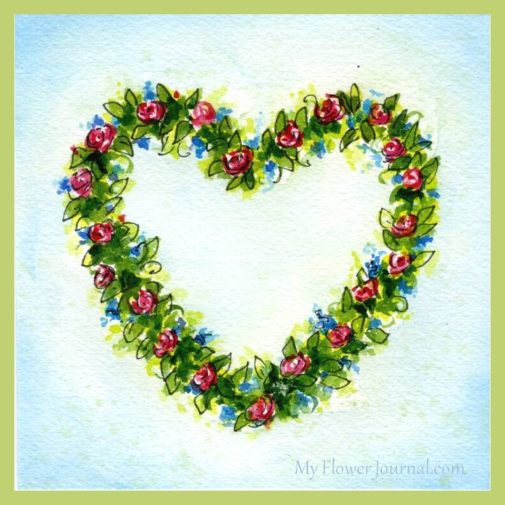 How to paint a heart filled with roses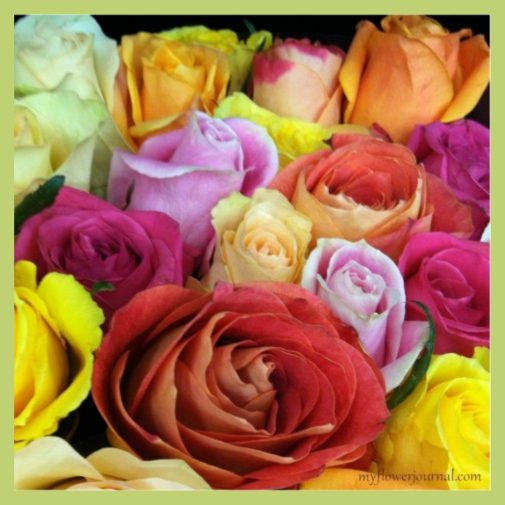 Inspiration
Inspired by this photo of roses I took at Costco some time ago I painted a watercolor heart full of roses.
To make the heart filled with roses first I cut a heart out of scrap paper and traced around it lightly with pencil. You could also trace a heart cookie cutter.
Next I filled it with simple roses like the ones in the tutorial above. Make sure you leave some white space in and around the roses. Then add some light green leaves. To finish add dark strokes to the roses and darker green leaves. It can be a finished piece of art like this or you can add some pen detail with a fine tip permanent black pen and paint splatters.
Another idea for a watercolor heart with roses
Using the rose tutorial above you can create a variety of rose themed art. To create the piece below I drew the heart with pencil and added the border. Next I outlined it in with a fine tip permanent black pen. Next I added a light pink wash leaving the center of the heart almost white. Paint three roses following the example above. Finish by adding some green leaves and detail with a fine tip permament black pen.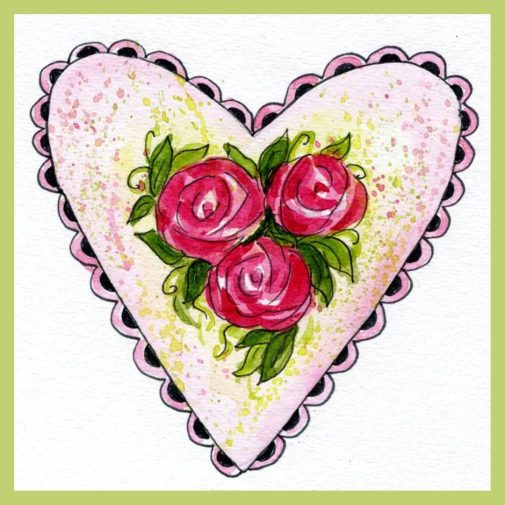 Do you like to add pen to your watercolor?
You can make wreaths in a variety of shapes like this example above. I added some pen detail to part of this wreath so you can see the difference it makes. I like it both ways. It just depends on the look you like. These wreaths look beautiful framed or on a card.
You can find more ideas for watercolor flower cards here and watercolor Christmas wreaths here.

Take a look at my new website!
In August 2020 I started reading online to my grandchildren, who live hundreds of miles away. A few years and over a thousand books later we are still reading together on FaceTime. I created readaloudgrandma.com to help other grandparents that want to have a rewarding experience reading aloud to children they love!