You can paint a beautiful watercolor flower wreath with little artistic skill or talent if you know a few tips. These watercolors look lovely framed or make great cards.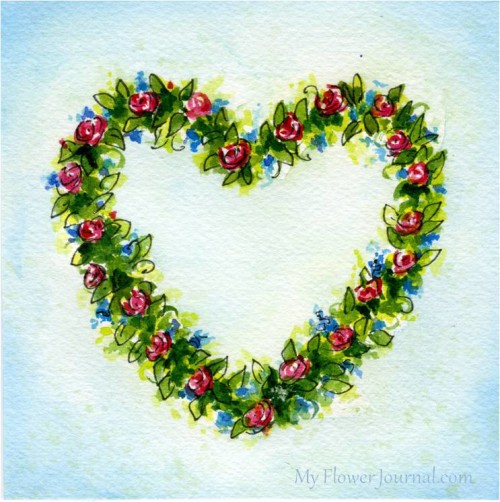 When you purchase through links on this site we may earn a commission at no extra cost to you. This helps us provide free content for you to enjoy.
Supplies
Gather your supplies: Watercolor Paper, **watercolors, watercolor brush or waterbrush, pencil, black pen, heart cookie cutter (optional), kneaded eraser, scissors.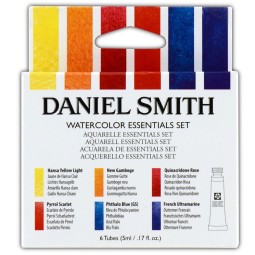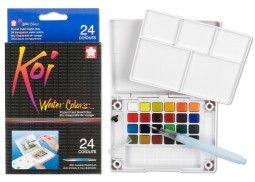 I use the Daniel Smith Essentials Set (a limited palette) plus a few favorite colors for most of my watercolor projects, but there are times when its nice to use premixed colors like the ones found in the Koi Watercolor set.
Make the wreath outline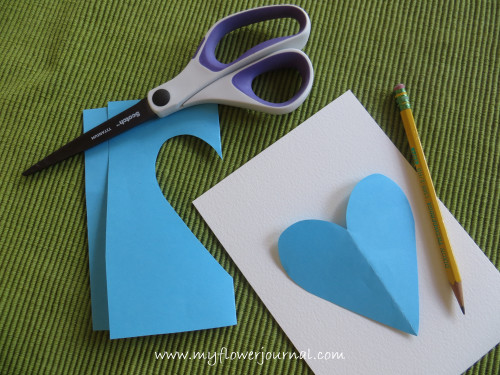 You can make the wreath any shape you want. For the round one I made I traced the top of a drinking glass that was the right size. For the heart wreath I folded a piece of scrap paper in half and cut a heart. I laid it on the watercolor paper to make sure it was the right size and then trimmed a little more until I was happy with it. You can also trace around a heart cookie cutter.
Center it on the watercolor paper and traced around it very lightly making a hit and miss line. If its too dark the pencil line will show through your watercolor. If you need to you can use a kneaded eraser to lighten the pencil before you start to paint.
Add the flowers
First paint the flowers on the wreath. Using a light or medium pink color make a simple rounded rose shape leaving plenty of white space. This is an important tip: Leave lots of white space! Do this on each step. Try to paint the flowers in a random pattern, alternating which side of the pencil line they are on. Another tutorial on how I paint watercolor roses can be found here.
Paint the light then dark green leaves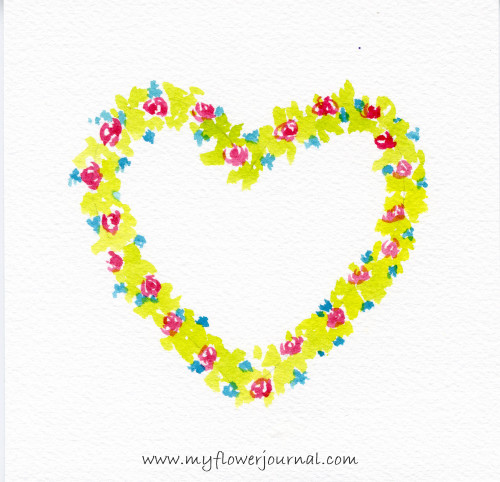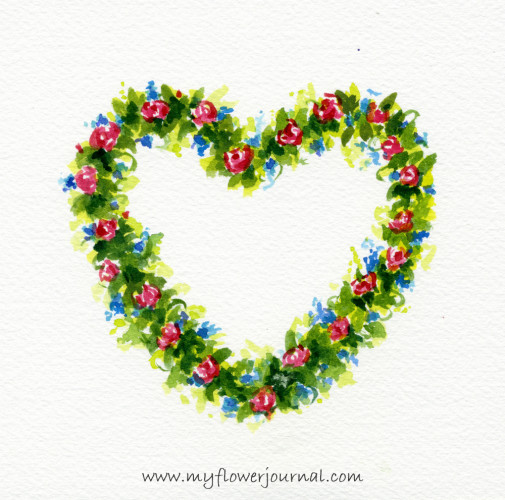 Second add the light green leaves. In watercolor you work from light to dark. Do dabs of paint leaving lots of white space. Don't try to paint individual leaves. Add dabs of medium blue for little blue flowers. Keep it random looking.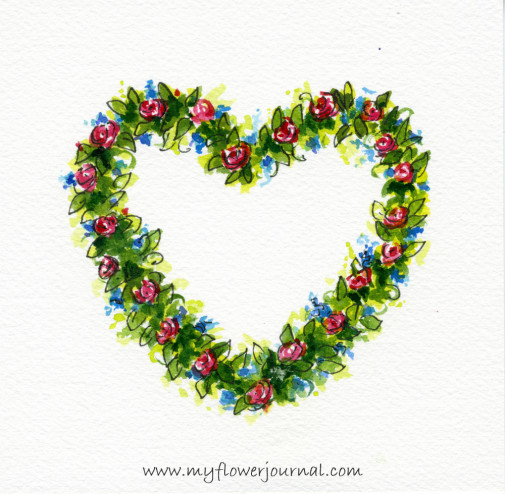 Next add darker green leaves, darker pink on the  roses and a darker blue on the little blue flowers.Let some of the light colors show through. Use a variety of greens doing the darkest green last. Remember watercolors dry lighter so don't be afraid to put some strong color on.
Don't fill in all the white spaces. The white spaces act as highlights and give it a fresh, spontaneous look. Add a few little vines and stray leaves here and there. Stop adding color when you are happy with the way it looks.
Final touches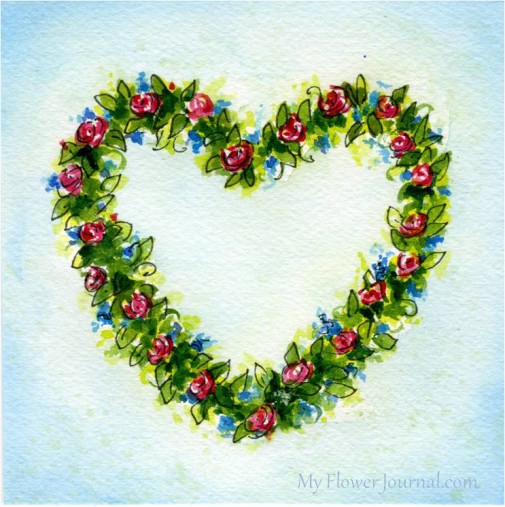 If you want you can add a few leaf shapes and flower outlines with an extra fine black pen. If you do use the pen to add detail make sure the watercolor is completely dry. Don't outline everything. Keep it simple.
I also like to add a wash of color and some paint splatters. First wet the paper around the wreath with clean water.  Next brush on the color you want. I like to make the color the darkest in the corners and on the edges and have it fade as it gets near the wreath.  
Then add a few splatters of paint to give some texture. You can do this while the paper is still wet and the splatters will be softer and blend in more. If you want the splatters to show up more wait until the paper is dry. Use a round watercolor brush loaded with paint that has lots of water in it. You want the splatters to be light in color. Flick the brush across your finger. Practice first on paper towel until you like the results. More splattered paint tips here.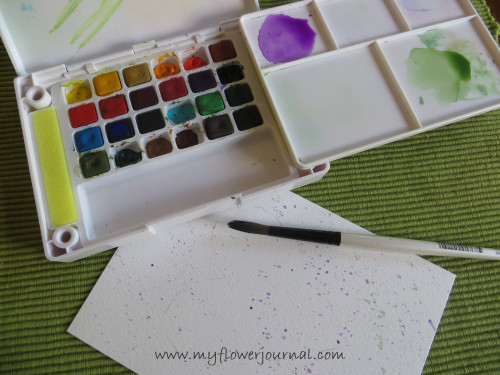 Splatters on dry paper.
More ideas
Here are some more watercolor flower wreath ideas: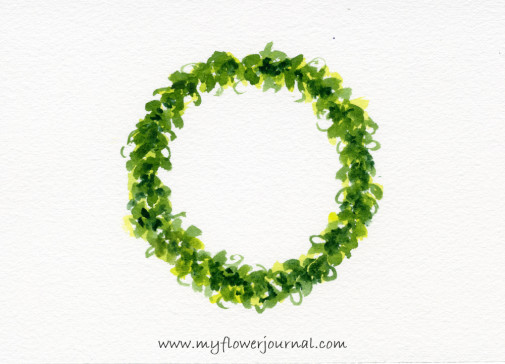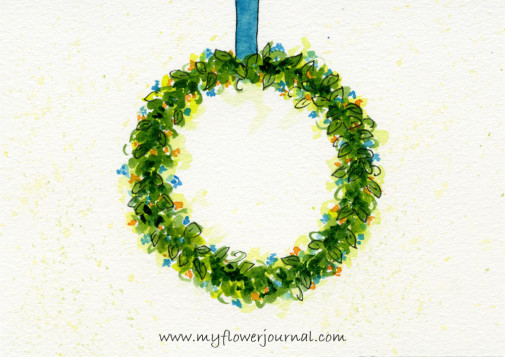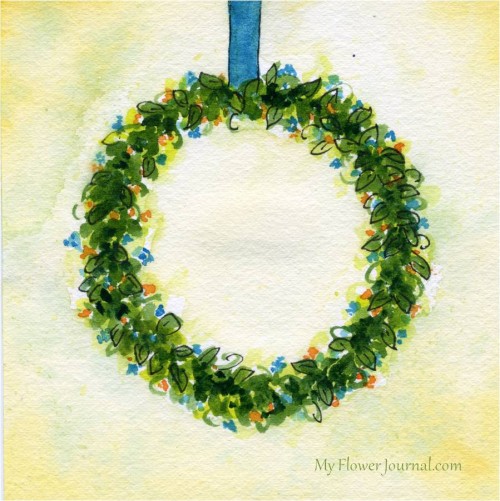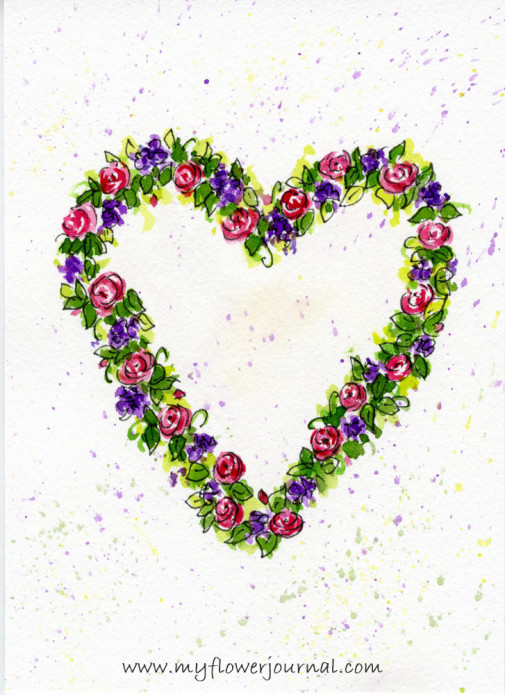 With a wash of green paint on wet paper (below).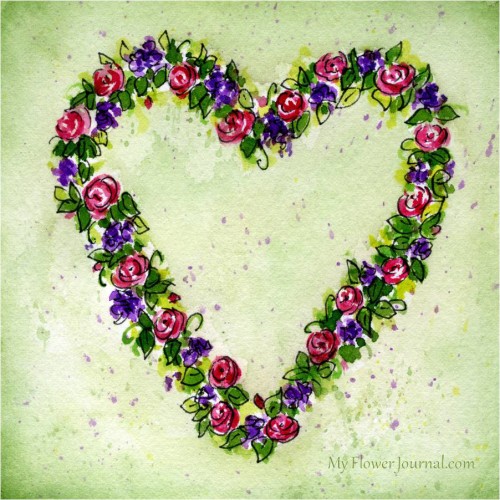 This is my favorite watercolor flower wreath and the one I have hanging in my art room.
Happy Watercolor Flower Painting!

Take a look at my new website!
In August 2020 I started reading online to my grandchildren, who live hundreds of miles away. A few years and over a thousand books later we are still reading together on FaceTime. I created readaloudgrandma.com to help other grandparents that want to have a rewarding experience reading aloud to children they love!