Flower art using old book pages can be a fun addition to your art journal pages or wall art. It can also be used to make cute cards or gift tags. I love the texture old book pages can add to watercolor or other mixed media creations.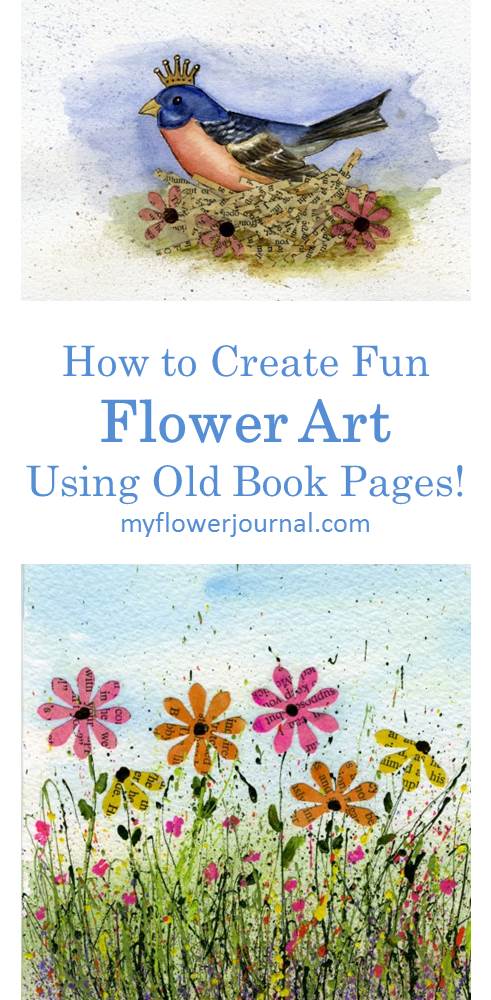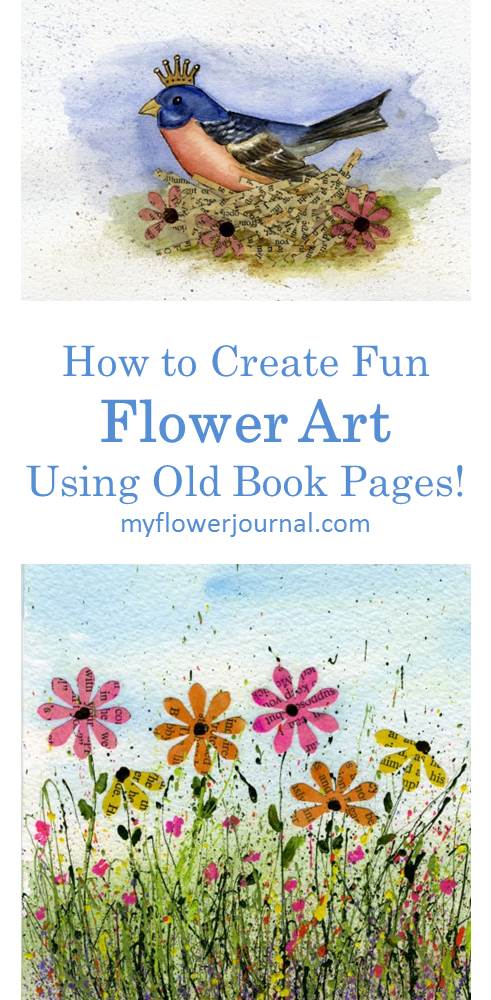 To create this flower art you will need watercolor paper, watercolors, acrylic paint, old book pages, flower punch, glue or Mod Podge, brushes, round bristle brush for splatters,masking tape, paper towel.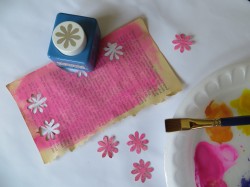 Paint several old book pages in different flower colors. Use acrylic paint that has enough water in it to make it transparent. You want to see the book print through the paint . When the paint is dry punch out several flowers. You could also turn the painted page over and draw flowers on the back and cut them out.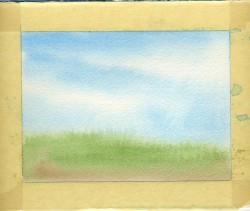 Cut your watercolor paper a little bigger than the size you want and mask the around the finished size. Do a watercolor wash for the sky and background. A video showing how I splatter paint is here.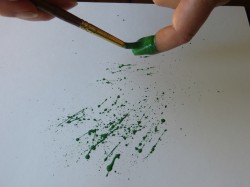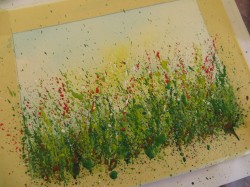 Splatter a few different colors of green paint on the watercolor background. Splatter some flower colors until it looks like a field of wildflowers. (More instructions and ideas about how to splatter paint here.) After the splatter paint is dry glue or Mod Podge the flowers on splatters that look like stems. Add a few leaves and more small flowers using acrylic paint and a small brush.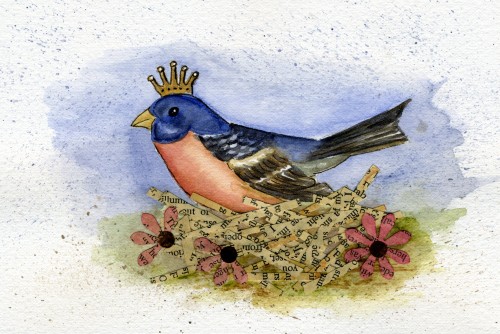 This journal page uses old books pages cut in strips to create a nest for a bird. I did the bird and background first in watercolor then added strips cut from old book pages to make the nest. I think it looks best to cut the pages diagonally in strips for the nest. The flowers were punched from pages painted with a watercolor wash to give them color. I used a glue stick then Mod Podge to secure the paper nest. If you don't want to do the bird in watercolor find a copyright free image of a bird and use it instead.
Change the look by adding hearts instead of flowers.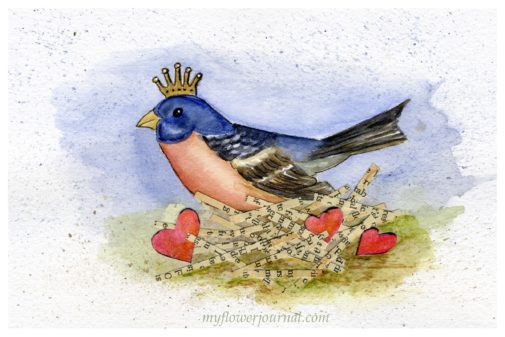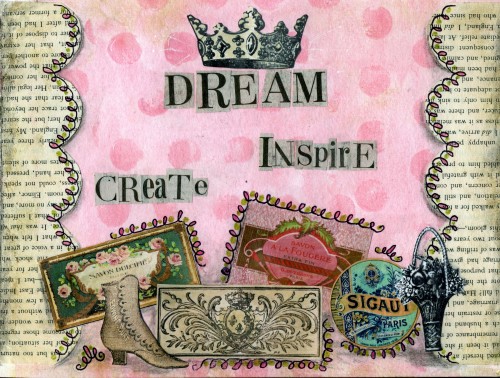 Old book pages make a nice border for this art journal page. I also used used acrylic paint, clip art collage, doodling and text cut from a newspaper.
As an Amazon Associate I earn from qualifying purchases. Many posts on my site contain Amazon affiliate links. I only share products I use and like. I make a small commission if you make a purchase through these links. I helps keep My Flower Journal running at no extra cost to you!
I will be sharing this flower art using old book pages on: Be Inspired Friday, Simply Dream and Create Thursday, Pinterest Power Party I Gotta Create, Inspire Us Thursday, Pin It Thursday, Art Journal Every Day, Paint Party Friday, Blitzed on Pinterest, Inspiration Gallery, Show and Tell Friday, Lovely Crafty Weekend, Feathered Nest Friday, Anything Blue Friday, Show and Tell Saturday, Finding the Pretty and Delicious, Amaze Me Monday, Inspire Me Tuesday, Tweak It Tuesday, Brag About It Tuesday, The Scoop, Pin It Tuesday, Wow Us Wednesday, Inspiration Exchange, Whatever Goes Wednesday, Tutorials, Tips and Tidbits, All Things Thursday, Finding The Pretty and Delicious, Daily Paper Prompt, Pin Me Linky Party, Mad in Crafts, Make The Scene Monday, Monday Funday, Pin It Monday, The Inspiration Board Creative Party, Best DIY Projects, Two Girls and A Party, All Things Pretty, Centerpiece Wednesday