How to create splattered paint flower art continues to be my most popular post. Over time many of you have asked great questions about how I create my splattered paint flower art.  Here are some of the FAQ and my answers to help you with your own art.

What kind of brush do I use?
The brush I use isn't available on amazon any more. I will need to find another one to link to. It needs to be a round bristle brush that you would use with acrylics or oils. A soft brush, like a watercolor brush doesn't splatter the acrylic paint as well. I photographed it next to a pencil so you could see the comparison in size.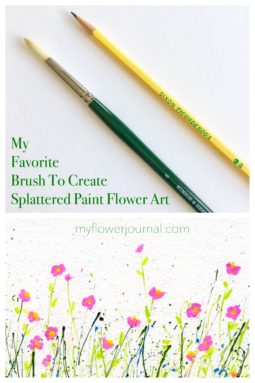 How do I create the long grass like splatters?  
I think the paint you choose makes the biggest difference. It does not work to use acrylic paint from a tube. Fluid acrylic paint works the best. I usually just buy what is available at my local craft store. If it is getting a little old and a little thick it won't work as well. I have used a lot of different brands of fluid acrylic paints: inexpensive ones and the more expensive Golden Fluid Acrylics.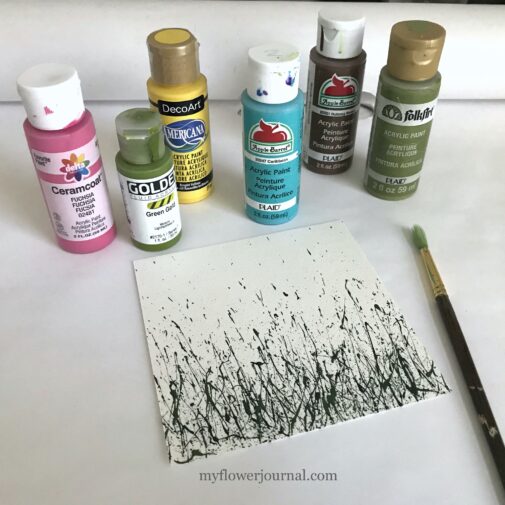 I love Golden Fluid Acrylic paints! They cost a little more, but come in such beautiful rich colors. Sometimes I use them combined other brands in the same painting. You might want to start with this basic set on Amazon and gradually add more colors. This set has one of my favorite flower colors: Quinacridone Magenta. You might want to get Green Gold for the grass/stem splatters.
I had my daughter video me doing some paint splatters. It is a very short simple video (no sound), but will help you see how I splatter the paint. 
More Ideas
I keep finding more ways to use my splattered paint flower art. Some the ideas I've shared are shown below.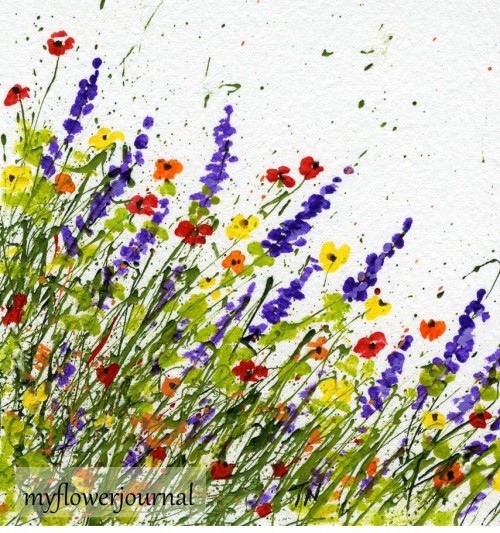 Splatter Painting From a Different Angle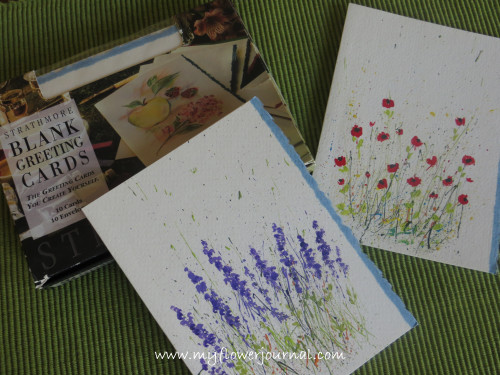 Splattered Paint Flower Cards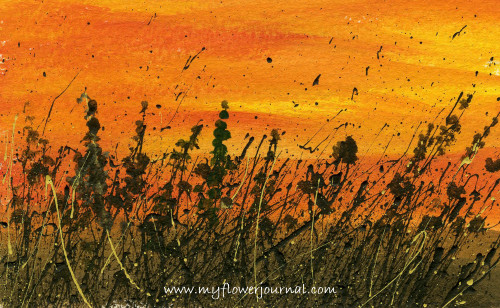 More spattered paint ideas and tips.
Winter Splattered Paint Art
Watercolor flowers can also be added to splattered acrylic paint. Go here and here for more ideas.
As an Amazon Associate I earn from qualifying purchases. Many posts on my site contain Amazon affiliate links. I only share products I use and like. I make a small commission if you make a purchase through these links. I helps keep My Flower Journal running at no extra cost to you!
I will be sharing this on Feathered Nest, Inspiration Gallery, Romantic Home, Paint Party Friday, Savvy Southern Style. A Stroll Thru Life, StoneGable, Cozy Little House