I recently painted some color swatches in watercolor inspired by a magazine I bought at Barnes and Noble. The magazine, Color Made Easy, (new issue) is filled with decorating ideas in different color themes. Most of the pages have swatches of the paint colors used on the walls. Its a fun magazine to look through, but it was the color swatches that caught my eye. I decided to go through the magazine page by page and try to mix my watercolors to match the paint swatches and make my own color cards. I think you could do this project with any decorating magazine. Even if they don't show color swatches you could mix the colors used in the room decor.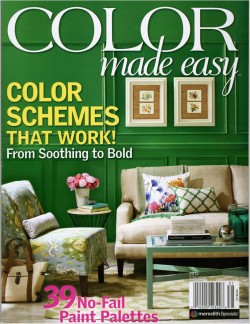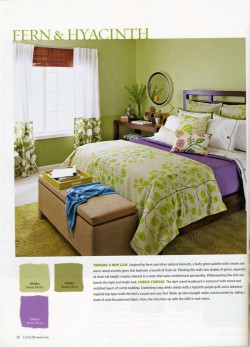 I cut 140 lb. watercolor into 3×5 cards to paint the color swatches on. On the back of each card I wrote the paint colors I mixed to create each color sample. It was a fun way to practice mixing colors and a good way for me to find new color combinations to use in my art. I also learned that I have a good selection of watercolor paints that I can use to mix a variety of colors.
*****January 2016 update: After taking a watercolor class I now use the Daniel Smith Essentials Set (a limited palette) plus a few favorite colors for most of my watercolor projects. In this class we did similar exercises to learn lots of ways to mix these basic colors. I encourage yout to take this class or make color charts or swatches with your paints. Its a great way to improve your paintings.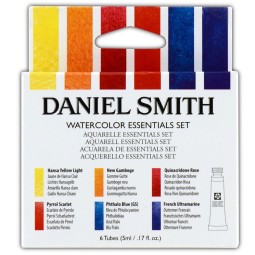 Other Supplies: Watercolor Paper, watercolor brush or waterbrush, black pen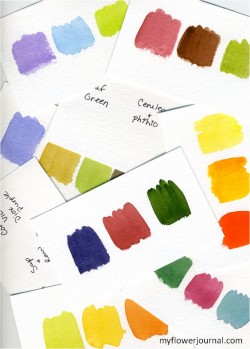 After I finished my color cards I used a few to create some simple watercolor paintings. (I still chose some of my favorite color combinations. Next time I need to choose some color combos out of my comfort zone.)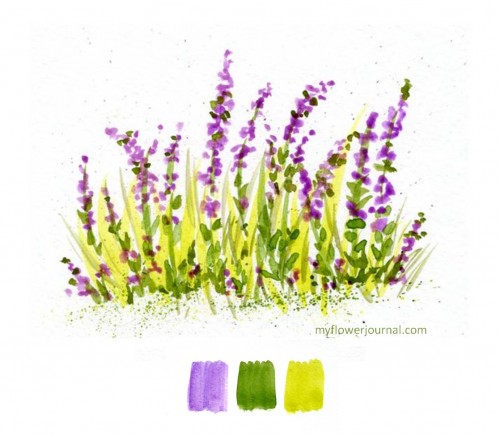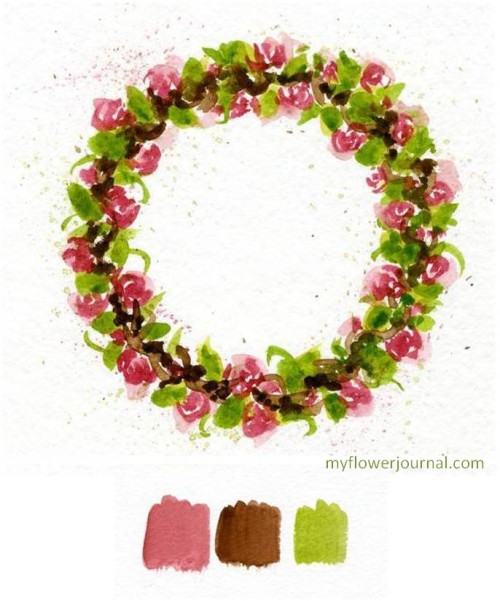 This tutorial shows how I paint my watercolor wreaths.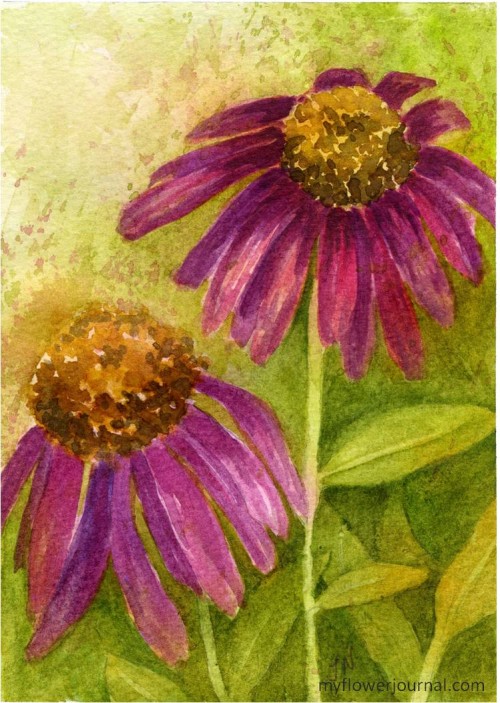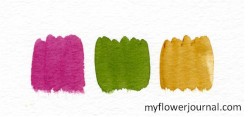 Tried a little more negative painting in this 5×7 watercolor of purple cone flowers.
This post contains affiliate links for products I love and use!
I will be sharing my Color Swatches in Watercolor on:  Tweak It Tuesday, Inspire Me Tuesday, The Scoop, Wow Us Wednesday, Tutorials, Tips and Tidbits, Whatever Goes Wednesday, Transformation Thursday, Inspiration Gallery, Feathered Nest Friday, Be Inspired Friday, Show and Tell Friday, Paint Party Friday, Art Journal Every Day