I want to share with you my favorite watercolor paint colors and the palette I store them in. There are so many watercolor paint brands and colors to choose from it can be confusing. I have spent years looking at lists of paint colors other artists use looking for common colors. Taking classes from other artists has been helpful in learning about different colors and how to use them. After the color mixing exercise I did I feel like I can mix just about any color I need from these paints. This is my list of my basic watercolor paint colors and a few fun ones that I keep on my palette.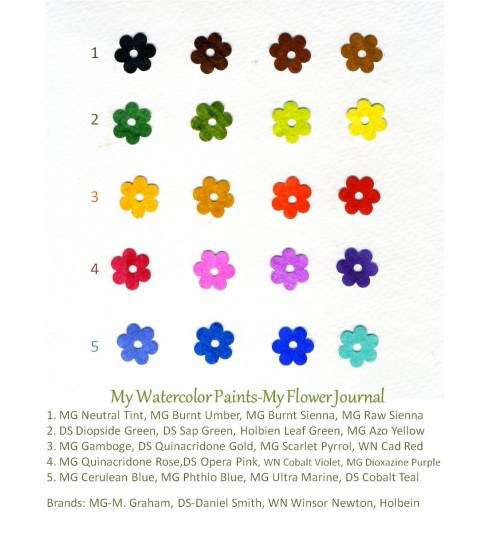 M. Graham Watercolor Paints, Daniel Smith Watercolors, Winsor Newton,Holbien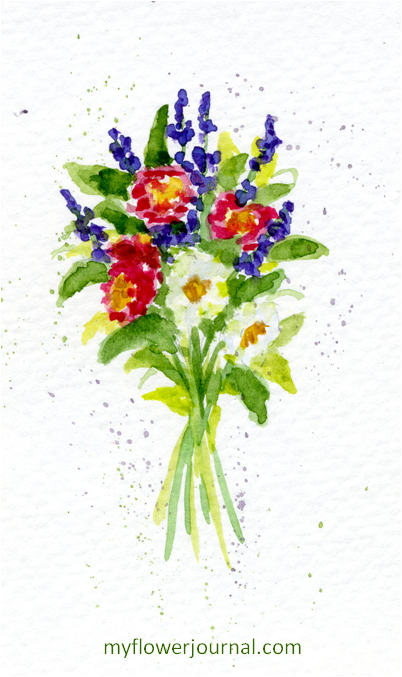 Playing with my paint colors I painted a very small watercolor bouquet on 3×5 inch watercolor paper.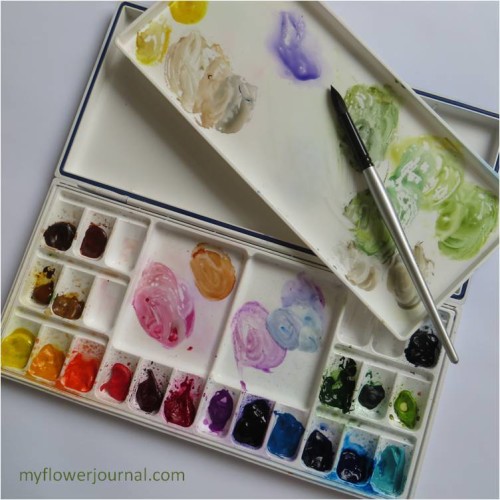 I love my Heritage 24 well palette. It holds all my paint colors with room for a few more. The inside tray lifts out giving me plenty of room to mix colors. When I'm through painting I close it and the paints stay clean. It is 6 1/4 x 12 1/2 inches when closed. This is a nice size for transporting to a class or workshop. It is suppose to be leak proof, but I have never had need to test that feature.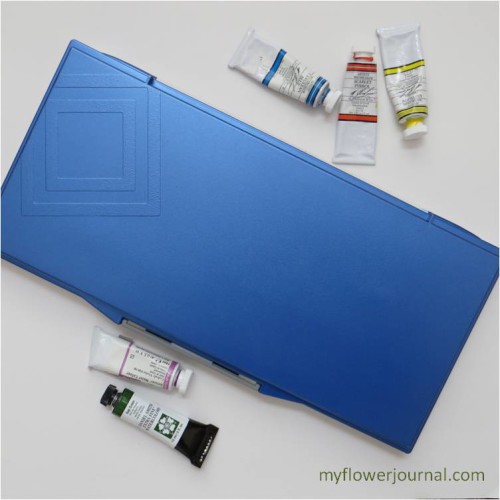 When I go to a class or workshop I store my supplies in this canvas rigger bag from Harbor Freight. I learned about this bag on Brenda Swenson's blog. She suggests taking the stitching out of some of the pockets. This was a great tip because most of the outside pockets were too small for my things. The pink plastic folder in the large side pocket is where I store 8×10 or smaller paintings I'm working on, extra watercolor paper and photos. My palette fits perfect in the bottom. It lays flat so if any paints are wet they won't run into each other.  There is enough room for a roll of  paper towel and a few other things on top.
***If you are new to watercolor painting or want to take a great watercolor check out this one on Craftsy. I took it during January of 2016. If this class had been available years ago I could have saved a lot of money on paint. I now use the Daniel Smith Essentials Set (a limited palette) plus a few favorite colors for most of my watercolor projects.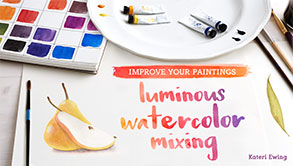 Follow me on Instagram for more flower art ideas.
I'll be sharing my Watercolor Paint Colors and Palette on : Show and Tell Friday, Inspiration Gallery,  Tweak It Tuesday,  Inspire Me Tuesday, The Scoop, Wow Us Wednesday, Whatever Goes Wednesday,  Tutorials, Tips and Tidbits, Be Inspired Friday