Did you know you can paint with watercolor on gesso? I learned something new this week in my online class with Junelle Jacobsen. She spread gesso on old book pages for some of the projects she has showed us. I have used gesso many times for multi-media projects, but I din't know you could paint with watercolor on it. What a great thing! I love the texture and look of the book print under the gesso with a watercolor sketch over it. I was surprised the pages dried flat after brushing the gesso on them. I suggest you spread gesso on a bunch of old book pages. That way you have plenty to create with. I used a sponge brush to apply the gesso. Make sure you do it thick enough for a good base to paint on, but thin enough for some of the book print to show through. I did a variety of book pages that were different sizes and colors.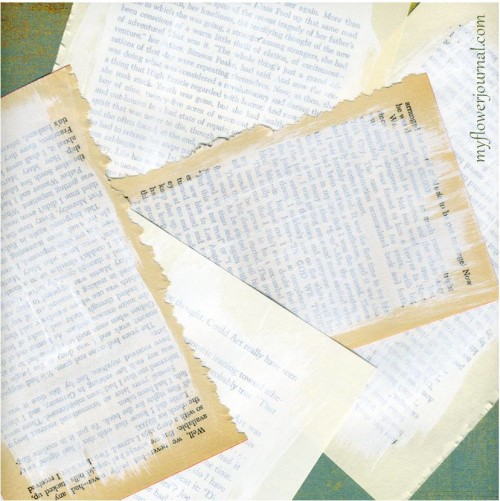 After the gesso is completely dry I lightly draw my sketch with pencil. Then I go over the pencil with a waterproof pen. I like the black sharpie pens, not to be confused with sharpie markers. Next I carefully erase the pencil if it shows. You can't erase very hard or you will damage your gesso surface. Watercolor as you usually would. When its dry I usually add a few more pen details and some splattered paint in watercolor or acrylic. Splattered acrylic paint is much heavier and gives the look of a grassy field. Splattered watercolor is just little specks and dries quite light unless you use a lot of pigment mixed with the water.
Here's a watercolor I painted on gesso spread on old book pages.
Pumpkin journal page before the splattered paint….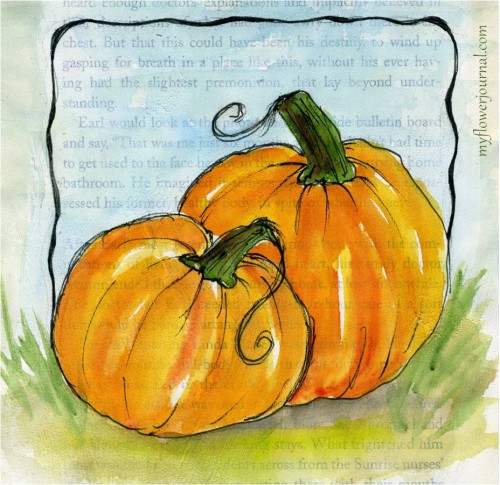 I splattered dark green and brown acrylic paint first, then a variety of lighter greens followed by orange, yellow and white.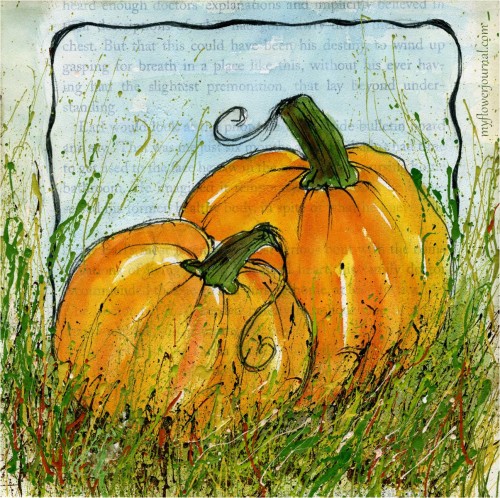 Watercolor pumpkins in a field of splattered acrylic paint.
As an Amazon Associate I earn from qualifying purchases. Many posts on my site contain Amazon affiliate links. I only share products I use and like. I make a small commission if you make a purchase through these links. I helps keep My Flower Journal running at no extra cost to you!
I'll be sharing Watercolor on Gesso on : Tweak It Tuesday, Inspire Me Tuesday, Wow Us Wednesday, Whatever Goes Wednesday, Tutorials, Tips and Tidbits, Be Inspired Friday, Show and Tell Friday, Inspiration Gallery, Feathered Nest Friday, Art Journal Every Day, Paint Party Friday