The book, Wildflower Watercolor by Sushma Hedge, is filled with beautiful watercolor wildflowers and the steps and techniques Sushma used to create them. I was sold when I saw the cover of the book! I couldn't wait to start following her tips to paint the pretty wildflowers she shares. This book is one you will want to add to your watercolor technique library.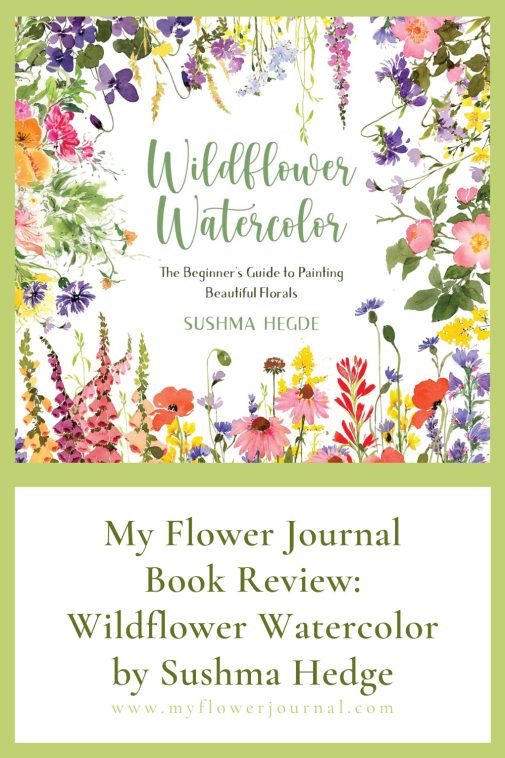 Why I Loved Wildflower Watercolor by Sushma Hedge
I discovered Sushma Hedge on Skillshare. I was drawn to her beautiful floral tutorials. I found her videos to be very relaxing and pleasant to watch. I enjoyed learning her loose style of painting. When I saw she had a book coming out I eagerly waited for it to be released. I have been slowly working my way through it following each tutorial she shares. If you want to learn more about Sushma's art you can follow her on instagram. There she shares some videos showing her process and lots of her beautiful art.
Sushma shares her favorite supplies including the colors and brushes she uses for each project. She goes over some basic watercolor techniques and how to observe and interpret what we see in nature. Her style is very loose so you don't start with pencil drawing. She shows you how to paint a variety of flowers using only your brush and paint and gives step by step instruction to paint 14 wild herbs and 15 wildflowers. At the end of the book Sushma gives guidance on how to compose a floral bouquet and has a project you can do.
Practice, practice, practice!
I bought the kindle version of Wildflower Watercolors. It was nice to zoom in on the examples. I took my time going through her book practicing the brush strokes and following her detailed examples. I really enjoyed the process! Here are some of my practice pages.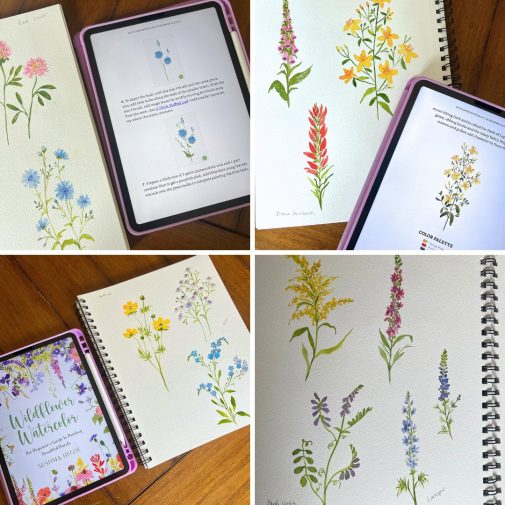 Wildflower Watercolor paintings
This book is great for anyone who loves to paint flowers! Beginners and experienced artists will find inspiration, lots of useful information and instructions. Here are two 5×7 wildflower watercolors I did after going through the book and practicing all of the techniques Sushma shares. I hope to try adding some of the wildflowers I learned to paint from this book to some splattered acrylic paint.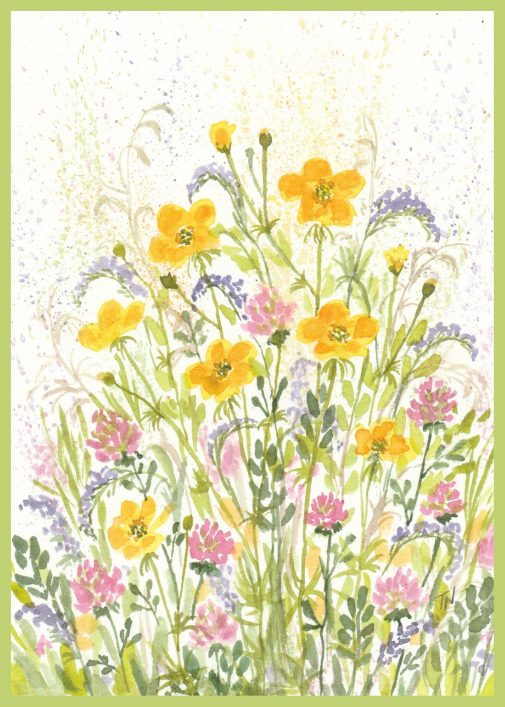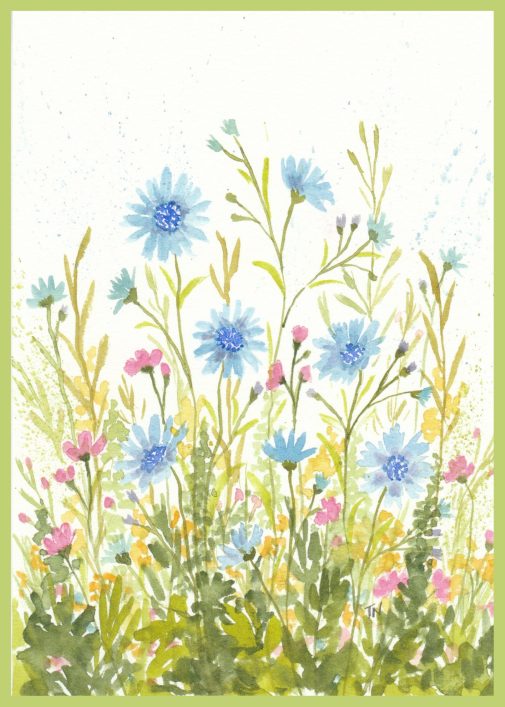 Take a look at my new website!
In August 2020 I started reading online to my grandchildren, who live hundreds of miles away. A few years and over a thousand books later we are still reading together on FaceTime. I created readaloudgrandma.com to help other grandparents that want to have a rewarding experience reading aloud to children they love!