I love my new on the go watercolor palette by Kremer Pigments. In my opinion the small Kremer palette is a great watercolor travel palette for three reasons. 
1. Its small.  Its only about 5 inches by 2 inches when its closed.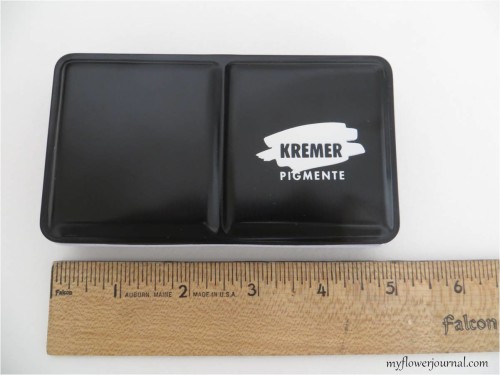 2 It has plenty of room to mix colors even though it is a compact size.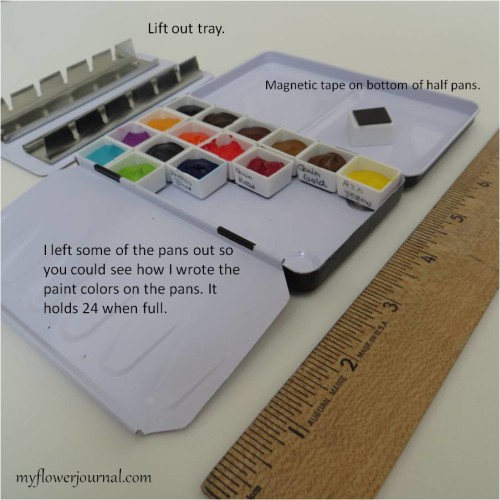 3. You can fill up to 24 half pans with your own watercolor paint colors and arrange them any way you want. This is the main reason I got it. I wanted to use the same colors when I'm on the go that I use when I paint at home. It comes with a tray that has clips designed to hold 8 full pans or about 14 half pans and a small brush. This tray lifts out and you can fill it with 24 half pans. I put magnetic tape on the bottom of my pans so they stay in place. I also wrote the name of each paint color on the pans with an extra fine sharpie. I have had some of my paints for years.  I keep adding to my collection a few tubes at a time. They last a long time, but it is an investment to buy very many paint colors. **After taking a watercolor class on Craftsy (January 2016) I now use the Daniel Smith Essentials Set (a limited palette) plus a few favorite colors for most of my watercolor projects.
 So far the farthest I've traveled with my new on the go watercolor palette is the kitchen table. I just started an online art journal class with Joanne Sharpe called Draw Your Awesome Life. Joannes's lettering book is a favorite of mine. I decided to use my new palette for this class and it has been perfect! It fits in a small clear cosmetic bag with my 5 1/2 inch square art journal by Global Art Materials. There is also enough room for my water brush, pencil, pens and paper towel. I like to keep my on the go watercolor kit near my kitchen. Its handy when I want to do a quick project, be near my family or watch a movie while I paint.
Here are the first two pages I've done for Joanne's class using my Kremer palette.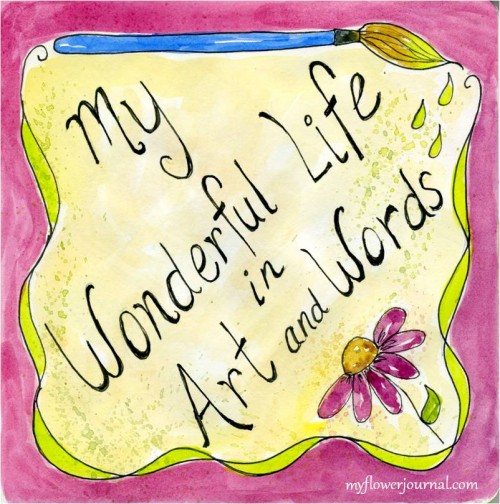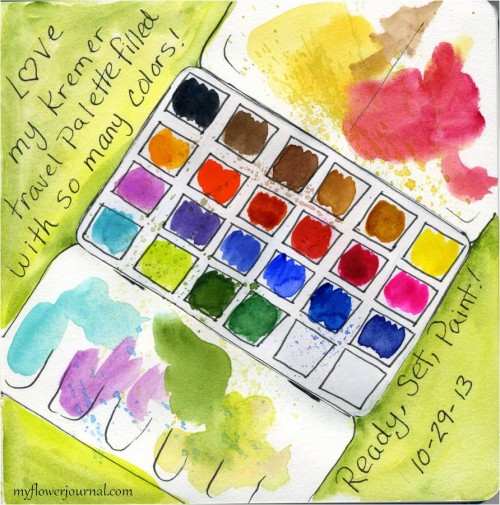 Years ago I bought a DVD with an art journaling class by Gay Kraeger. She is an excellent teacher and now teaches a class on Craftsy.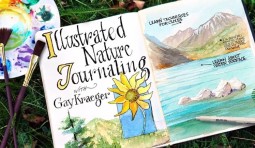 Another great Craftsy class.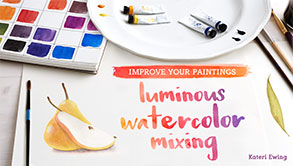 I'll be sharing Watercolor On The Go on :  Tweak It Tuesday,  Inspire Me Tuesday, Wow Us Wednesday, Whatever Goes Wednesday,  Tutorials, Tips and Tidbits, Be Inspired Friday,  Show and Tell Friday, Inspiration Gallery, Feathered Nest Friday, Art Journal Every Day