I love to do watercolor flower doodles. When I doodle I like to have a paint brush in my hand instead of a pen or pencil. My Koi watercolor set and water brush is perfect for this. Its hard for me to know where to start when I have a blank paper in front of me so I like one that has some acrylic paint splattered on it.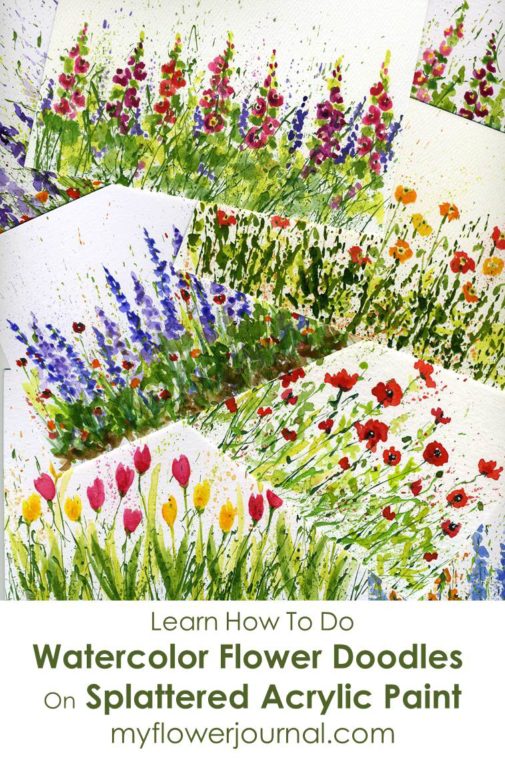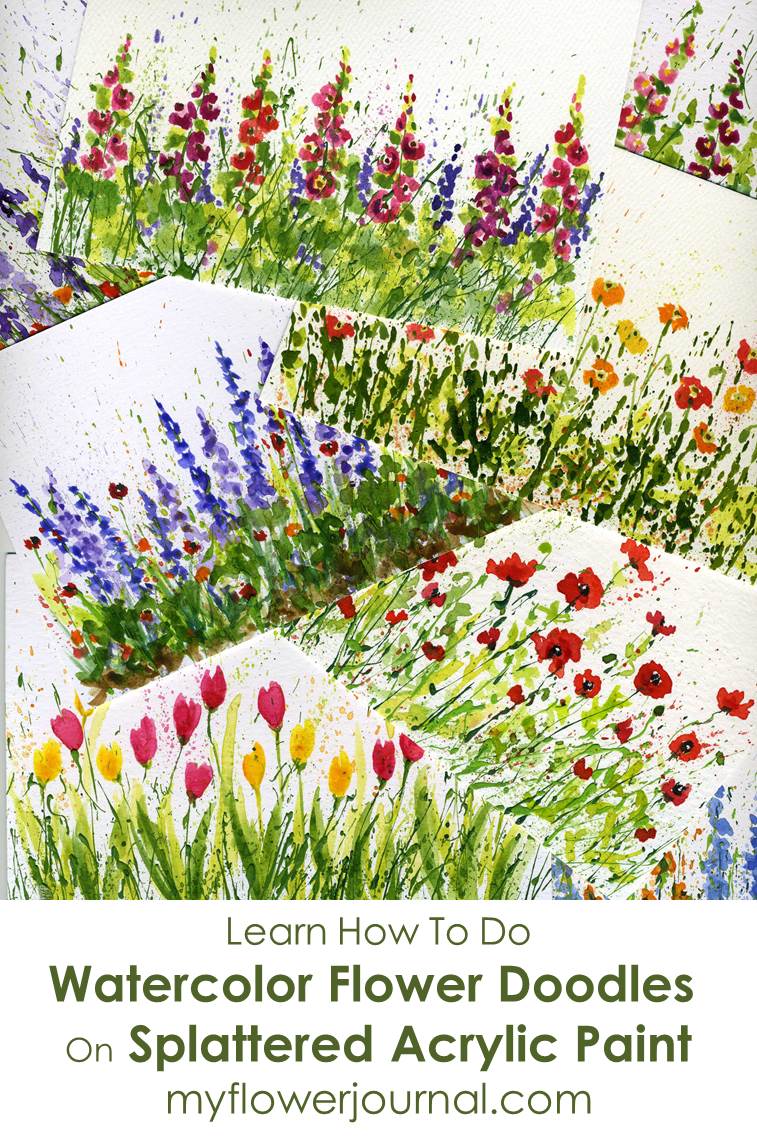 When you purchase through links on this site we may earn a commission at no extra cost to you. This helps us provide free content for you to enjoy.
Splatter Paint
Sometimes I spend an hour and splatter paint on 20-25 4×6 watercolor postcards.If I don't have any postcards I cut a large piece of watercolor paper into 4×6 cards. Sometimes I splatter two different greens on the same card. Other times I just use one color of green and only do a few splatters to give variety. You can learn how I splatter paint here.I let them dry then store them with my on the go watercolor kit.

Favorite Flowers
Watercolor Flower Doodles On Splattered Paint
When I have a few extra minutes and want to play with paint I can pull one out and do some flower doodles with my watercolors. I experiment with different colors and types of flowers. I love the free flower drawing video tutorials from The House That Lars Built. I also look on google images for wild flower ideas. Then I practice and experiment. If I don't like how one turns out I'm not out much and I throw it away. If I like the finished results I can use it to write a note to a friend or put it with a gift.
Poppies, delphiniums, tulips and hollyhocks are some of my favorite flowers to combine with the paint splatters. They all grow in nature in a variety of colors on tall stems. Sometimes I use my imagination and create pretty colorful flowers that I can't name. Daffodils also work well. You can find my step by step tutorial for daffodil doodles here.

Take a look at my new website!
In August 2020 I started reading online to my grandchildren, who live hundreds of miles away. A few years and over a thousand books later we are still reading together on FaceTime. I created readaloudgrandma.com to help other grandparents that want to have a rewarding experience reading aloud to children they love!