I love to use my Polaroid ZIP mobile printer to print photos for my travel journal or other on the go craft projects. Its small enough to fit in my pocket or purse yet prints great quality 2×3 inch photos. The photos have a sticky back that makes it easy to put them on the pages of my travel journal.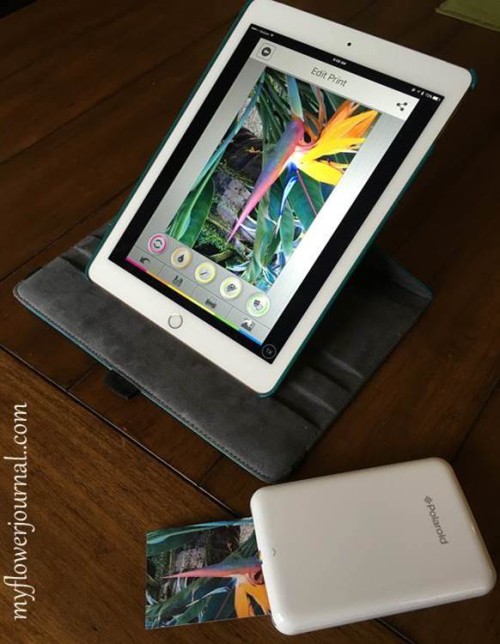 When I travel I like to collect brochures, maps and postcards to put in a travel journal. On a recent trip I took a Polaroid Zip printer and had so much fun printing some of the pictures I took on my iPhone and putting them in my journal. It didn't require scissors or a glue stick, just my phone, the printer and blue tooth. The printer is simple to use and easy to take with you. You don't need any ink cartridges. The magic is in the ZINK photo paper. Considering the size of the printer the photos are good quality. At first I was disappointed the color was a little off and tried to adjust the color before printing, but I found I wasted paper and time. Compared to the image on my phone the color was a little different, but not too bad. It is meant to be a instant print like the old Polaroid cameras not a studio print. When my journal was all done and the photos were mixed in with the collages I created from brochures and little watercolors I added I was happy with the end result.
      You can see some of the photos I printed for my travel journal here. I also decided to try printing some scanned images of my art. I was pleased with how they turned out and put them on some Strathmore Cards. They make beautiful, simple cards. I plan to try making some gifts tags for presents and packages as well. I'm sure I will continue to find more fun ways to use this great little mobile printer.
As an Amazon Associate I earn from qualifying purchases. Many posts on my site contain Amazon affiliate links. I only share products I use and like. I make a small commission if you make a purchase through these links. I helps keep My Flower Journal running at no extra cost to you!
I will be sharing this on Feathered Nest, Inspiration Gallery, Romantic Home, Savvy Southern Style. A Stroll Thru Life, StoneGable, Cozy Little House