Have you noticed how succulents are showing up everywhere: bridal bouquets, centerpieces, living wreaths,  gardens and landscaping. After looking at all the inspiring ideas on Succulents and Sunshine I decided I need to plant some succulents in my back yard. Living in Utah I wanted to plant a type that would handle our hot summers and cold winters.  In April I planted some different kinds of sempervivum, commonly called hen and chicks. They have done quite well and have lots of chicks so I am ready to propagate them and start some new plants. Cassidy from Succulents and Sunshine has written an eBook called Propagating Succulents that you can purchase on her website.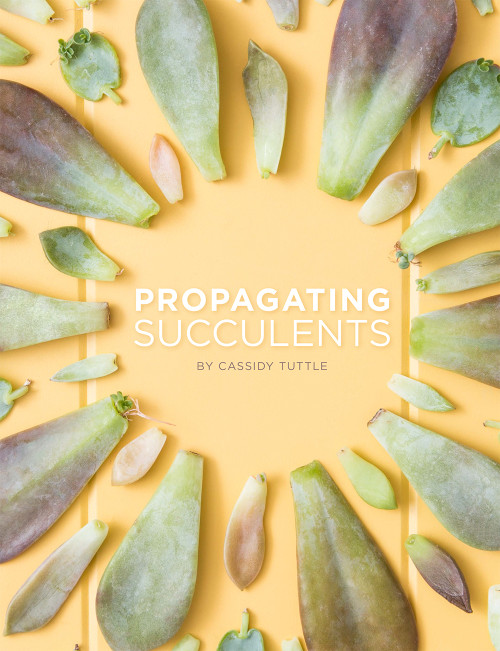 I love ebooks because you don't have to leave home to get them or wait for them to come in the mail. Just pay- then download! In her book Cassidy covers how to propagate succulents from leaves and cuttings. She has done lots of experimenting and has learned from trial and error. She has lots of good advice on what works the best for different types of succulents. A strength of the book are all the beautiful clear photos she uses to explain the process. At the end she shares some fun ideas you can do with your succulent cuttings. After looking at her creations I decided to use some of the chicks I pulled away from the mother plant combined with some flowers from my garden to make a bouquet.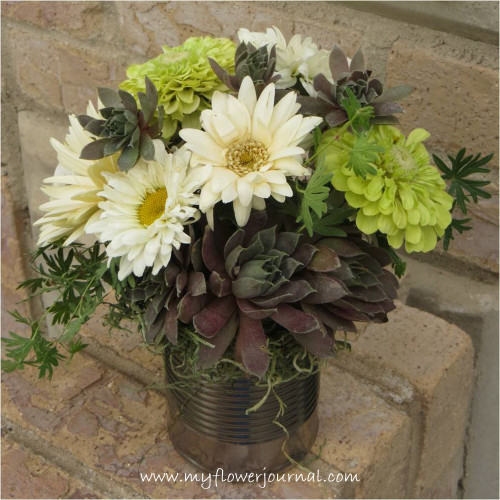 Bouquet: Hen and Chicks, Gerber Daisy,Zinnia-Envy, Shasta Daisy Snowcap, Shasta Daisy Victorian Secret and Hardy Geranium Leaves for filler.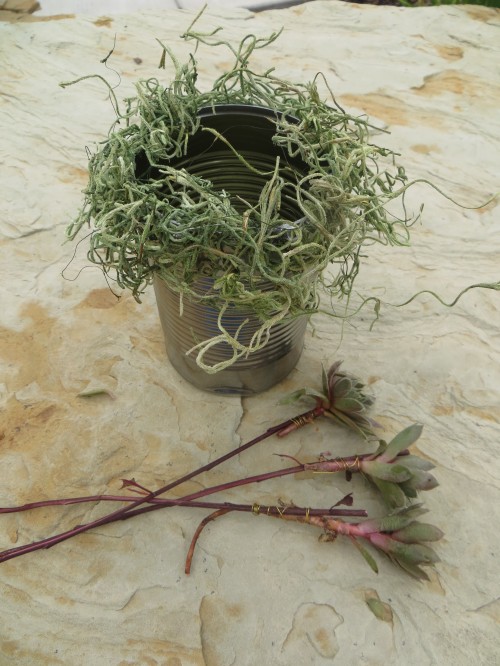 To make the bouquet I glued moss on an empty tin can. Succulents don't have a long, strong stem and don't  like to sit in water. So I attached some of the smaller cuttings to twigs  with wire. I used hot glue to attach the larger rosettes to the can.  Yes, hot glue!  (See a post Cassidy did about using hot glue on succulents.) Succulents, including hen and chicks, can go days without water so they should stay fresh as long as the flowers last. That's one reason they are becoming so popular in all kinds of bouquets. I love how this bouquet turned out. As my hen and chicks grow and spread I can see using them more often in arrangements and bouquets!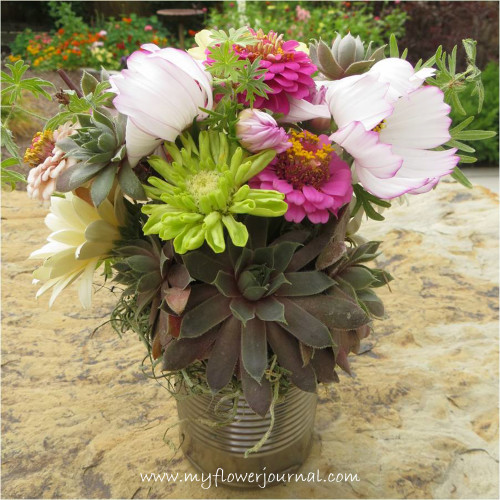 *One week later the flowers were fading, but the succulents still looked good. I took out the old flowers and replaced them with fresh ones from the garden!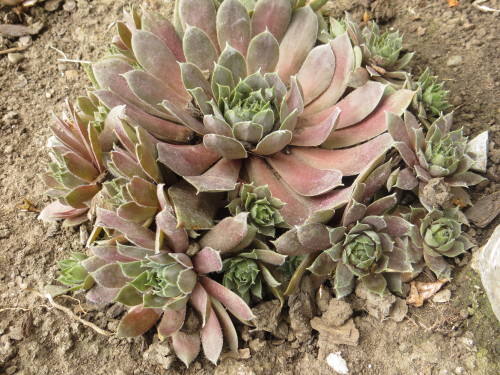 My Hen and Chicks with lots of chicks ready to be propagated and replanted.
Emerald Empress Sempervivum  above and Common Sempervivum below.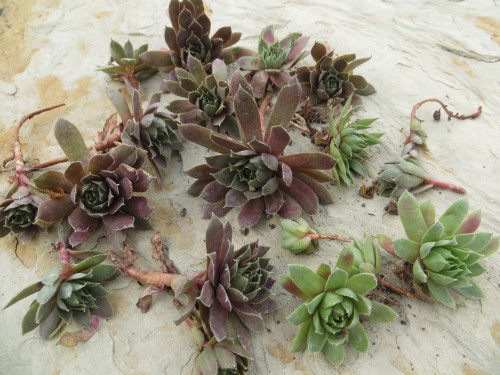 According to Cassidy these "chicks" I pulled from the "hen" can be treated as a small plant and put into well drained soil and they will continue to grow and produce more chicks. Succulents are a great addition to your garden and bouquets.
Shared on: Show and Tell Friday, Fertilizer Friday, The Creative Connection, Feathered Nest Fridays, Lovely Crafty Home, Rooted in Thyme, Outdoor Wednesday. Cottage Garden Party, The Garden Appreciation Society, Finding the Pretty and Delicious, Roses and Other Gardening Joys, Inspire Me Monday, Amaze Me Monday, Tweak It Tuesday, Inspire Me Tuesday, Todays Creative Blog. Tuesday Garden Party, Wow Us Wednesday, I Gotta Create, Organized 31, Brag About It Tuesday, Whatever Goes Wednesday, Pinterest Power Party, Inspiration Gallery