Step inside a secret garden with me. Living near Thanksgiving Point Gardens in Lehi, Utah I love to visit the secret garden found there. It must have been designed by someone very familiar with the garden discovered by Mary Lennox. After visiting there a few days ago I haven't been able to stop thinking about Mary, Dickon and the robin that found the key. The Secret Garden by Frances Hodges Burnett is one of my all time favorite books. I still the have the copy I first read when I was about 10 years old.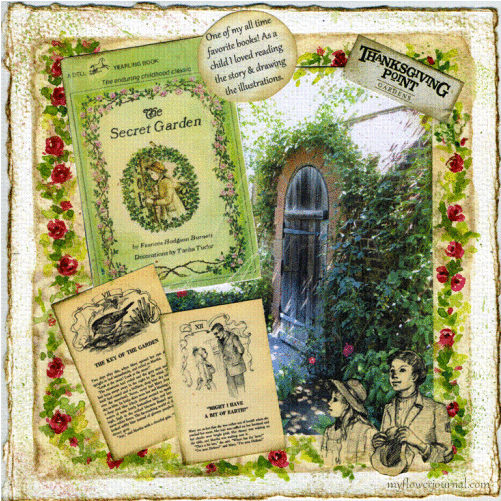 I made this Secret Garden Collage from scanned images of  the cover and pages from The Secret Garden book I've had since I was a child. I have always loved the illustrations by Tasha Tudor so I wanted to include them. I also used a  garden gate photo I took at Thanksgiving Point Gardens. The collage is on watercolor paper and I used Tim Holtz distressing ink and watercolor on the background and border.
Take a tour through some of the photos from my recent visit to the Secret Garden at Thanksgiving Point and see if you can imagine Mary, Dickon and Collin playing among the flowers, climbing roses and honeysuckle vine.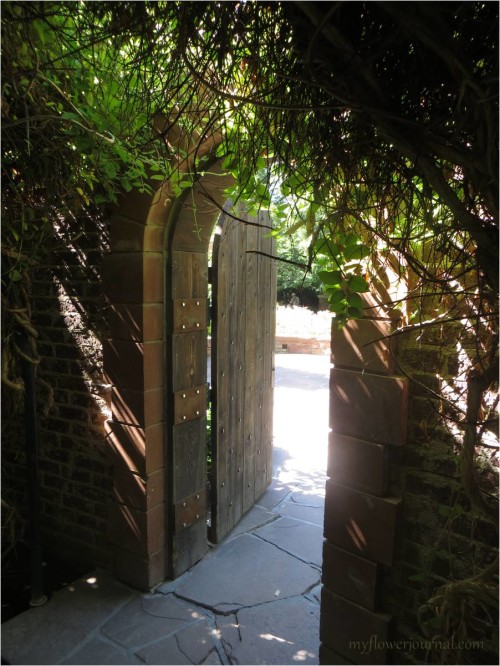 You enter the Secret Garden gate after walking through a tunnel of Honeysuckle vine so thick it blocks most of the sunlight even in the middle of the day.
The photos below are different views inside the Secret Garden.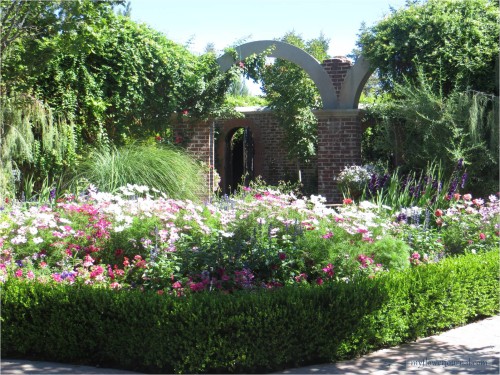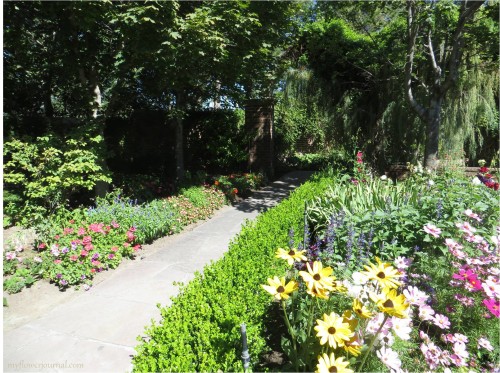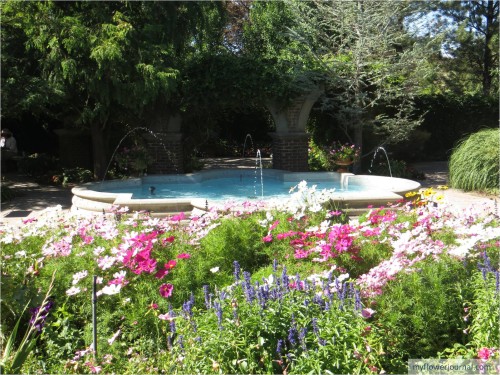 Some of my favorite Secret Garden Quotes.
"Might I," quavered Mary, "might I have a bit of earth?"
"If you look the right way, you can see that the whole world is a garden."
"At first people refuse to believe that a strange new thing can be done, then they begin to hope it can be done, then they see it can be done–then it is done and all the world wonders why it was not done centuries ago."
"It made her think that it was curious how much nicer a person looked when he smiled. She had not thought of it before."
(You can find more Secret Garden Quotes on Good Reads.)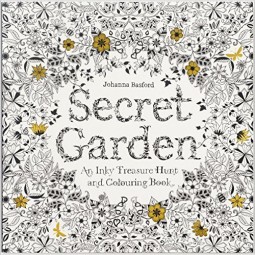 I'll be sharing Step Inside A Secret Garden With Me on: The Inspiration Gallery, Paint Party Friday, Art Journal Every Day, Creative Every Day, Be Inspired Friday, Amaze Me Monday, Inspire Me Tuesday, Tweak It Tuesday, Pin It Monday, Brag About It Tuesday