The Splattered Paint Flower Art I'm sharing today was all created with Golden Fluid Acrylics. A question I am asked often is what type of acrylic paint I use. I have used a lot of different brands of acrylic paints over the years for my splattered paint flower art. Sometimes I use a variety of brands in one painting. The most important thing to look for is a fluid acrylic paint, not acrylic paint in a tube.

Why I like Golden Fluid Acrylics
Golden Fluid Acrylic paint is the most expensive brand I use. Other less expensive brands work as well, but Golden's intense colors can't compare to most other brands. The three splattered paint flower art pieces in this post were made with the Golden Fluid Acrylics.  I painted them on gesso board or watercolor postcards.
I use the colors in this basic set and Ultramarine Blue,  Cobalt Teal, Sap Green, Green Gold, Dioxazine Purple, Raw Umber.  With these colors I can mix most colors I need for my flower art.
How To Make Splattered Paint Flower art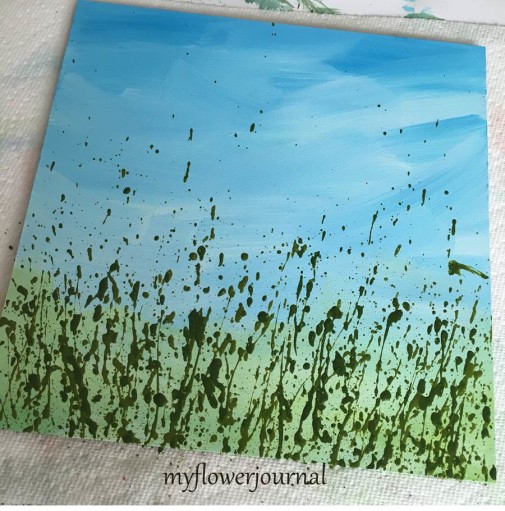 After I paint the sky and ground color I splatter green paint with a round bristle brush.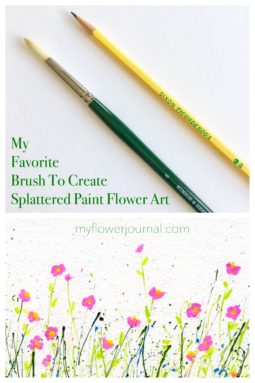 You can watch a video and learn more about how I do this here. After the paint has dried I add dabs of flower colors to create a variety of flowers. If I have splatters I don't like I can cover them with flowers.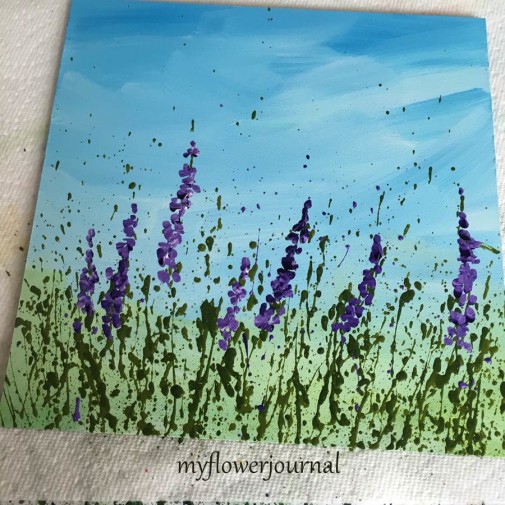 I keep adding flowers and sometimes more greens and a few splatters in the flower colors. After it dried for a day I sprayed it with Golden Matte Varnish to protect it.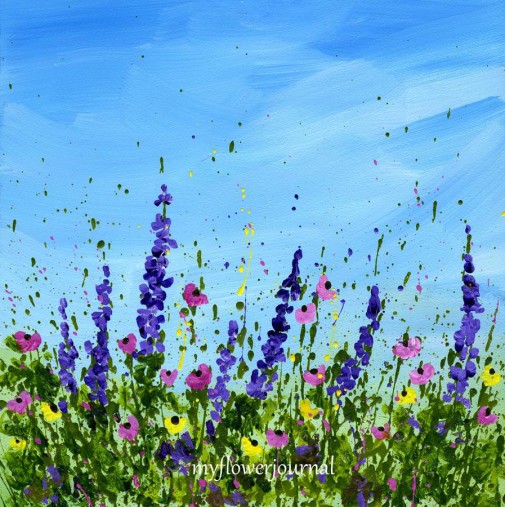 As an Amazon Associate I earn from qualifying purchases. Many posts on my site contain Amazon affiliate links. I only share products I use and like. I make a small commission if you make a purchase through these links. I helps keep My Flower Journal running at no extra cost to you!
I will be sharing this on Feathered Nest, Inspiration Gallery, Romantic Home, Paint Party Friday, Savvy Southern Style. A Stroll Thru Life, StoneGable, Cozy Little House