Plein air painting can be a fun and rewarding activity with the right supplies and a little preparation. I recently took a few supplies and went to the Ashton Gardens at Thanksgiving Point in Lehi, Utah and did some watercolor plein air painting. Here are some tips to make your next plein air painting experience a pleasant one.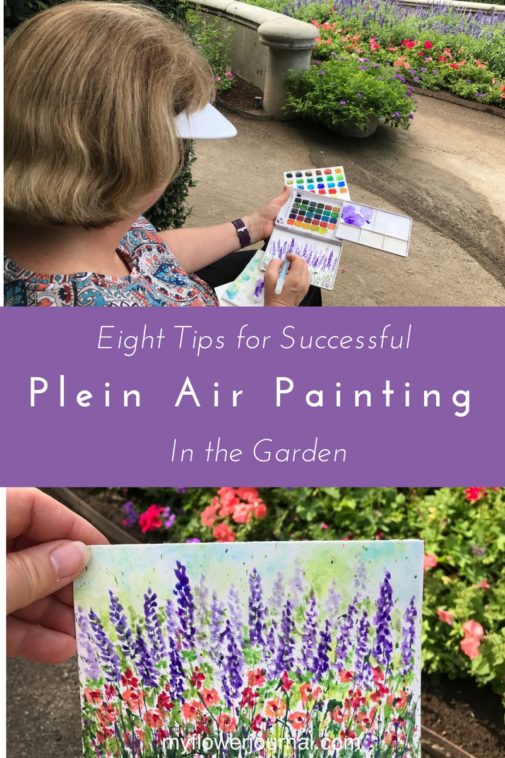 When you purchase through links on this site we may earn a commission at no extra cost to you. This helps us provide free content for you to enjoy.
8 Tips For A Pleasant Plein Air Painting Experience
1. Pack light.
Keep your plein air painting kit small so it is easy to carry wth you in your purse or tote bag. My kit includes the Koi Watercolor Pocket Field Sketch Box. It comes with a small water brush and I added a medium sized one too. I also have a black sharpie pen, white gel pen, mechanical pencil, clear plastic ruler, eraser, small spray bottle of water to moisten the paints, paper towel and Strathmore Watercolor Postcards. All of this fits in this Travelon packing cube. I love the Sakura Koi Pocket Sketch Kit. When its open you can place a 4×6 watercolor postcard on the open cover and there is tray that is stored inside to mix your paint on. The brush that is included with this set is a water brush. The handle can be filled with water making it possible to paint without a cup of water to rinse your brush in. If you haven't used a water brush here's a video tutorial that shows how to use one.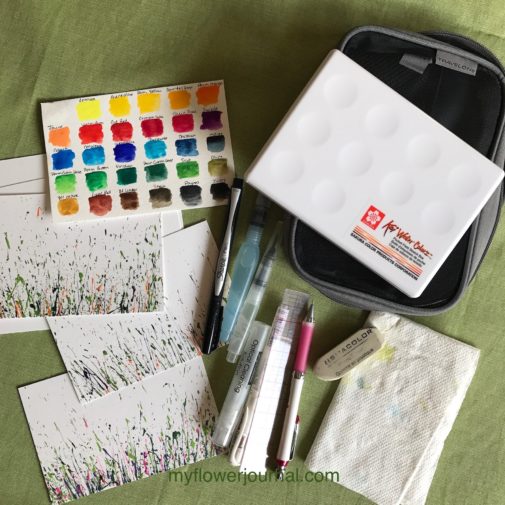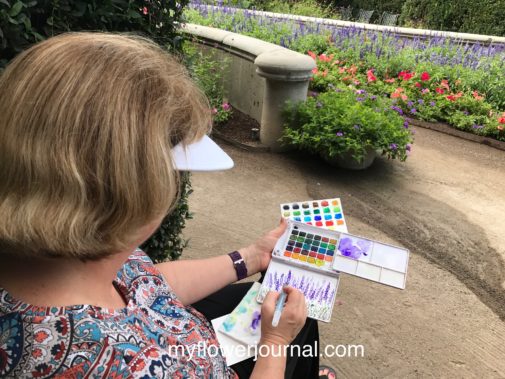 2. Splatter Paint on Postcards.
I love to add flowers to postcards with splattered acrylic paint. A couple of days before my plein air painting experience I splattered some acrylic paint on some of my Strathmore 4×6 watercolor postcards. You can learn how I splatter paint here. The flowers in the garden were my inspiration for adding flowers with watercolor to my splattered paint to create an impressionistic piece of art. This way I didn't start with a blank piece of paper and have to try and decide what to draw.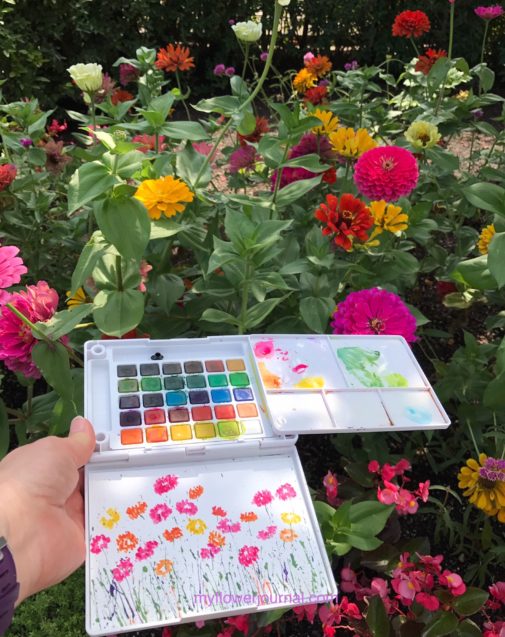 3. Dress appropriately.
Dress in comfortable clothes that won't be damaged if you have to sit on the ground. Most gardens have plenty of benches, but they aren't always in the shade. I like to sit in the shade so sometimes I find it necessary to sit on the ground to get the view I want and be out of the bright sun.
4.Wear insect repellant.
I forgot to do this and came home with a few bug bites.
5. Paint in a variety of locations.
Work quickly and try different locations and views. There are so many different flowers and themes in gardens its fun to move around and paint more than one scene.
6. Be Prepared for attention.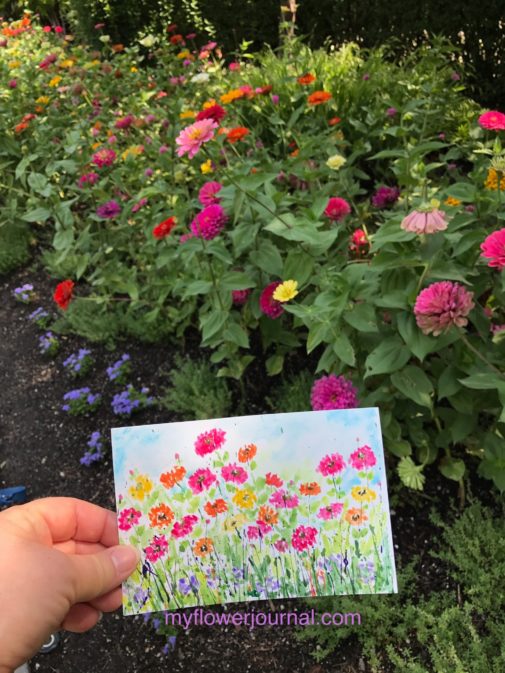 This is a hard one for me. I would rather paint at home where no one is watching, but its a good experience to get out in nature and paint. People are curious and like to see what you are doing and ask questions. At first this felt awkward, but I just relaxed and took time to visit with people that showed an interest. I met some nice people and enjoyed exchanging ideas with them.
7. Not every piece will be a masterpiece.
If you don't like the postcard your working on start over. Its only paper. You can use the back as a piece of scrap paper to test colors. Move to a new spot if necessary.
8. Know when to stop.
After a couple of hours take a break or finish and go home. Quit before you get too tired or hungry. Its good to finish your plein air painting experience with a piece you are happy with. Once I'm tired or hungry its not as much fun. I have to remind myself I can come back and do it another day!
Happy Painting!
You can see more splattered paint flower postcards ideas here and here.

Take a look at my new website!
In August 2020 I started reading online to my grandchildren, who live hundreds of miles away. A few years and over a thousand books later we are still reading together on FaceTime. I created readaloudgrandma.com to help other grandparents that want to have a rewarding experience reading aloud to children they love!