I love my new Koi Watercolor Pocket Set and the 30 colors it now includes. I have used my Koi set of 24 colors  for years for on the go or quick projects.Recently Sakura  added 6 new colors to their small, portable watercolor set without changing the size. Plus, it still includes a medium size water brush.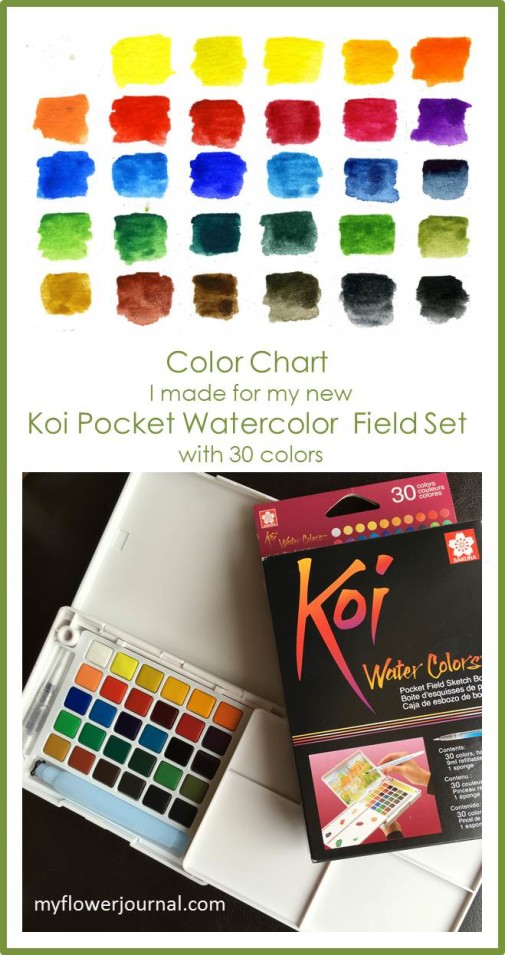 Color Chart for the Koi Watercolor Pocket Set
I made a color chart on a 4×6 watercolor postcard that I can keep with my set. It fits perfectly inside the lid. These are the colors in the order they are on the card. The ones with the (*) are the new colors. Starting with the top row:
Chinese White, Lemon Yellow, Aureoline Hue, Permanent Yellow*, Permanent Yellow Deep, Permanent Orange
Jaune Brilliant, Vermilion Hue, Cadium Red Hue, Crimson Lake, Quinacridone Rose, Purple
Cobalt Blue Hue, Cerulean Blue Hue, Ultramarine Deep, Turquoise Blue*, Prussian Blue, Indigo*
Permanent Green Pale* (replaced Yellow Green), Permanent Green*, Viridan Hue, Sap Green*, Olive Green
Yellow Ochre, Light Red, Burnt Umber, Sepia*, Payne's Gray, Ivory Black
Practicing with the Koi Watercolor Pocket Set

After I finished my my color chart I played with the colors and made some watercolor flower postcards. The tutorials for how I make my watercolor flowers can be found here and here. I love working on watercolor postcards. I like to practice new techniques or ideas on them. If I like how they turn out I can use them as cards or gift tags. The bright pretty colors in this set work well for painting flowers. There is  plenty of room for mixing colors. The removable tray can be placed on the left or right or even in the front of the paint colors. The lid can be used to mix colors or hold your color chart or a the watercolor postcard you are working on. Since the water brush fits inside you don't need a lot of space to store your supplies for your on the go watercolor projects.
As an Amazon Associate I earn from qualifying purchases. Many posts on my site contain Amazon affiliate links. I only share products I use and like. I make a small commission if you make a purchase through these links. I helps keep My Flower Journal running at no extra cost to you!This post contains affiliate links.
More Ideas
On these watercolor postcards I used the Koi set to add watercolor flowers to some splattered acrylic paint. You can learn more about my splattered paint flower art here.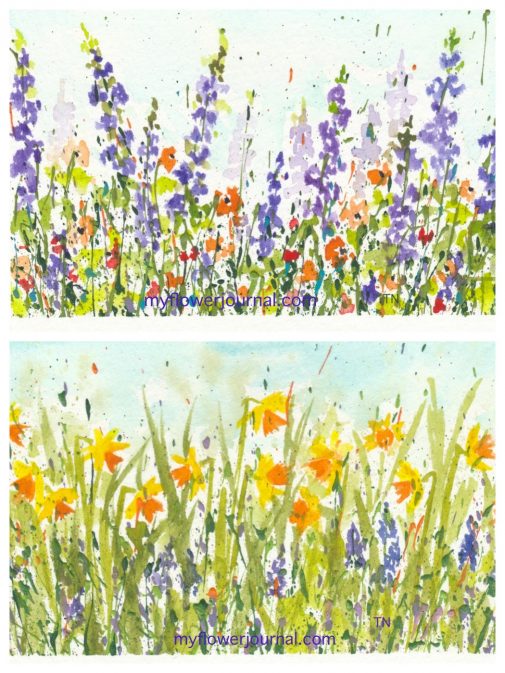 I will be sharing this on Feathered Nest, Inspiration Gallery, Savvy Southern Style. A Stroll Thru Life, StoneGable, Cozy Little House