Take a peek at my little knit bunnies in the garden enjoying the flowers. They were knit from Julie Williams Little Cotton Rabbits pattern. I have followed Julie's blog for several years now wishing I could knit cute little rabbits and animals like hers. It was a happy day for me this summer when she released a pattern for a boy and girl bunny and some extra bunny dresses. I love starting with balls of yarn in beautiful colors and creating something with a cute face and clothes. Julie's patterns are well written with lots of photos and detailed instructions. They do require some knitting experience so if you don't know how to knit take a few lessons. I think they would make cute gifts, but right now I'm too attached to my little knit bunnies and  I don't think I can give them away!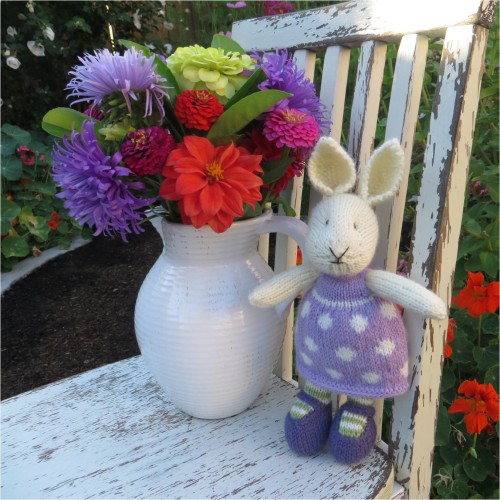 A late summer bouquet of asters, green envy zinnia, dahlias, zinnias and laurel leaves.
 I love the green envy zinnia combined with the purple aster in my garden this year. It was the inspiration for this sweet bunny's dress, tights and shoes. I use Plymouth Encore Yarn in DK weight to knit my bunnies.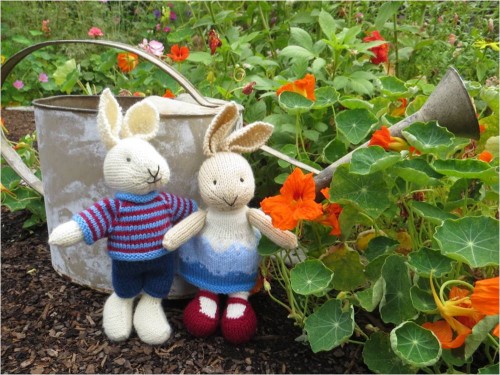 One bunny is cute, but two together are twice as fun. Don't you love her Mary Jane shoes?
I also enjoy knitting little mice from Alan Dart's Knitting Patterns. He has a wide variety of toys you can knit. His patterns are available to download on his website.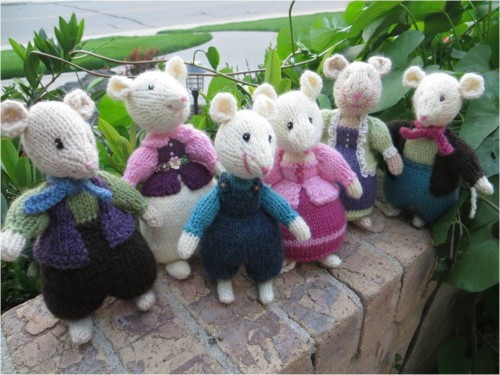 If you are new to knitting or toy knitting I highly recommend Susan B Anderson's online toy knitting class on Craftsy. I have watched it several times and have learned so many great tips and techniques. You can find it here.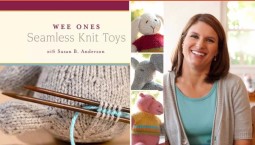 I'll be sharing my little knit bunnies in the garden on Be Inspired Friday, Feathered Nest Friday, Show and Tell Friday, Inspiration Gallery, Finding The Pretty and Delicious, Wow Us Wednesday, Whatever Goes Wednesday, Tutorials, Tips and Tidbits, Brag About It Tuesday