I have a free butterfly printable for you and a tutorial showing you how I used it to paint some watercolor butterflies.
Inspiration
I loved visiting Butterfly Wonderland in Scottsdale Arizona and couldn't wait to paint some watercolor butterflies. Using the photos I took I drew a basic butterfly, scanned it and printed it on Mixed Media paper. Drawing isn't my favorite part of the process. I am always anxious to get my paints out and start adding color. I decided if I had one good butterfly drawing I could use it to paint a variety of butterflies to frame or use as cards. You can download this free butterfly printable here.
Supplies
Mixed Media Paper, Watercolors, Watercolor Brushes, Extra Fine Black Pen, White Gel Pen
Step by Step Tutorial Using Free Butterfly Printable

1. Print the butterfly printable on 140# Mixed Media Paper. For my printer I trimmed the paper to 8 1/2 x 11.
2. Use an ultra fine marker or watercolor to go over the lines you want to use. I found the ink from my printer became so light after I did a watercolor wash I couldn't see it very well to finish the butterfly details.
3. Keep adding color until you are happy with your butterfly. It works best to paint a layer, let it dry then add more paint. I used my butterfly photos as inspiration, but didn't try to make an exact copy. It was more fun to be creative. In the example above you can see how my butterflies progressed from the ink and initial wash to adding more colors, details and splatters. The Koi Watercolor Set had the perfect blue for my blue butterfly.
4. Add more details with a fine black marker or white gel pen.
5. If you get some drops of paint on the background where you don't want it add some decorative splatters and it will blend in.
6. Frame your butterfly art or use them as cards or postcards.
More Ideas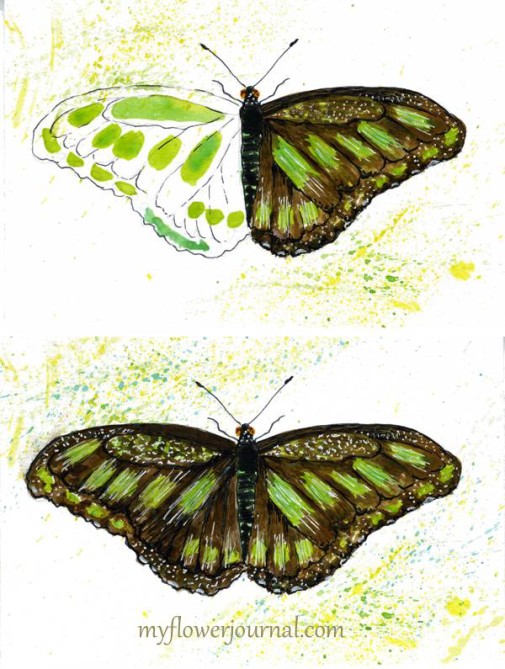 After I finished this one I didn't care for it. I put it away and didn't look at it for a few days. I got it out when I was writing this post and decided it wasn't that bad. It looks a little more like a moth than a butterfly. Sometimes it helps to step away from projects or put them away then look a them after time has passed.
Butterfly Books that will give you some ideas: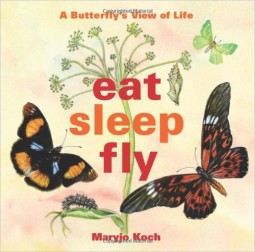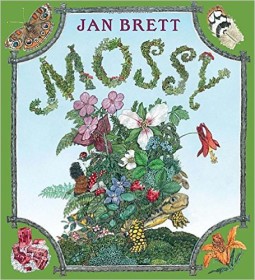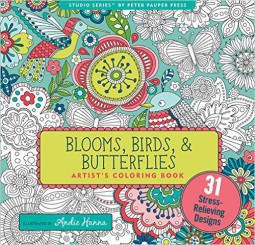 I would love to see what ideas you come up with. Share your creations on instagram #watercolorbutterfly.
Free Butterfly Printable Here!
As an Amazon Associate I earn from qualifying purchases. Many posts on my site contain Amazon affiliate links. I only share products I use and like. I make a small commission if you make a purchase through these links. I helps keep My Flower Journal running at no extra cost to you!
I will be sharing my free butterfly printable on  Feathered Nest, Inspiration Gallery, Paint Party Friday, Savvy Southern Style. A Stroll Thru Life, StoneGable, Cozy Little House.