I just finished some fun fall watercolor journal pages. I'm taking Junelle Jacobsen's The Art of Holiday Goodness online workshop. It just started a couple days of go and has already been so much fun. The first project we did was to collect fall leaves, sketch them, add watercolor and some pen detail at the end. Junelle had some good tips for making fast, loose sketches. Sketching is something I need to work on so this was a good demo for me to watch and try. She also showed us how to do some silly fall sketches. One of my sketches turned into a page with border that needed something to go in the middle of it. I decided to add my favorite fall recipe. I love pumpkin pie, pumpkin chocolate chip cookies and pumpkin bread, but pumpkin rolls are my favorite fall dessert!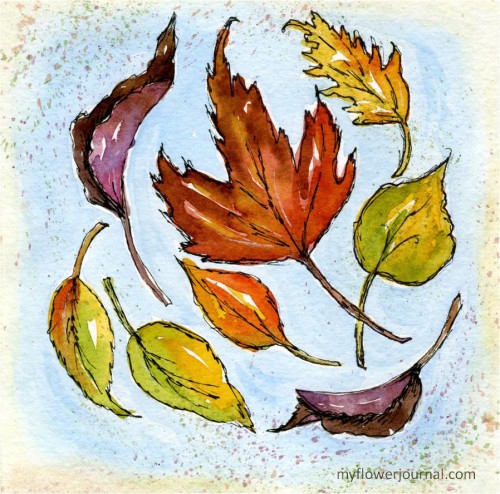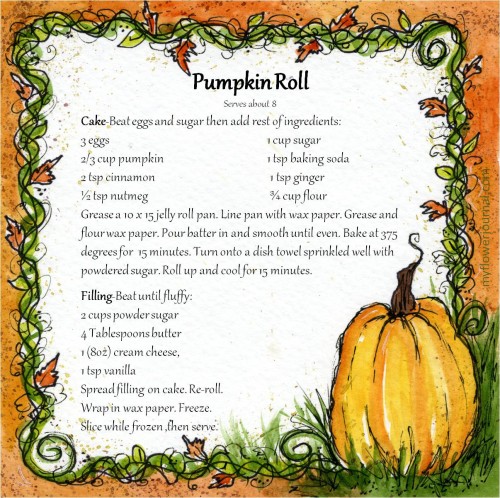 You can download this recipe here and print it for your own use.
You can find more of my fall watercolor project ideas here.
As an Amazon Associate I earn from qualifying purchases. Many posts on my site contain Amazon affiliate links. I only share products I use and like. I make a small commission if you make a purchase through these links. I helps keep My Flower Journal running at no extra cost to you!
I'll be sharing Fall Watercolor Journal Pages and a Recipe on : Tweak It Tuesday, Inspire Me Tuesday, Wow Us Wednesday, Whatever Goes Wednesday, Tutorials, Tips and Tidbits, Be Inspired Friday, Show and Tell Friday, Inspiration Gallery, Feathered Nest Friday, Art Journal Every Day