Our beautiful fall weather inspired me to paint some pumpkins in watercolor. I found a photo I took of a pile of pumpkins and thought it would be interesting to do some negative painting and try to show the different layers and depths of the pumpkins. I haven't had a lot of experience painting the negative shapes first so this piece gave me a chance to practice this technique.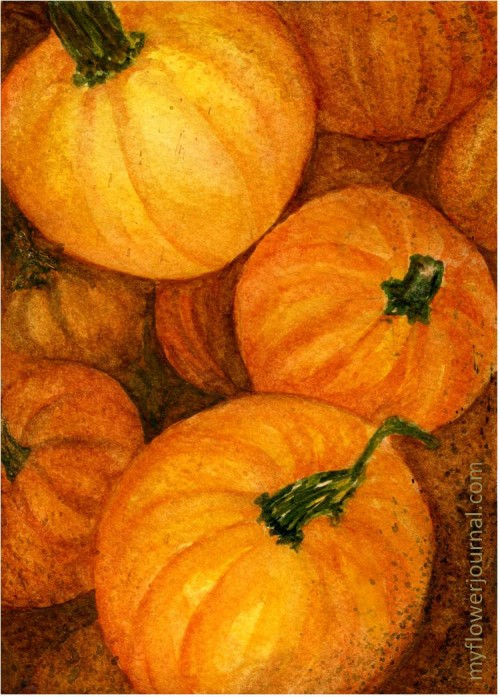 First I did a pencil sketch of my pumpkin design on a 5×7 piece of watercolor paper. Then I did a wet in wet wash with Quinacridone Gold, Quinacridone Sienna and Burnt Umber letting the colors run into each other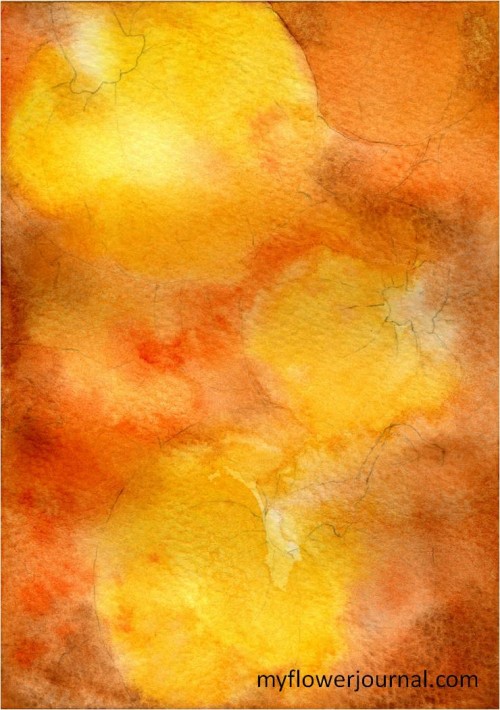 After it was completely dry I painted the negative space around the three main pumpkins so they would stand out. After this dried I painted the negative space around the second layer of pumpkins with a slightly darker shade. I Let it dry and painted the negative space around the bottom layer of pumpkins with a darker shade. I added a few details and stems on the pumpkins. To finish I always have to add some extra texture with paint splatters. Sorry I don't have more photos of my process. I got so involved painting before I knew it my fall pumpkins in watercolor were done!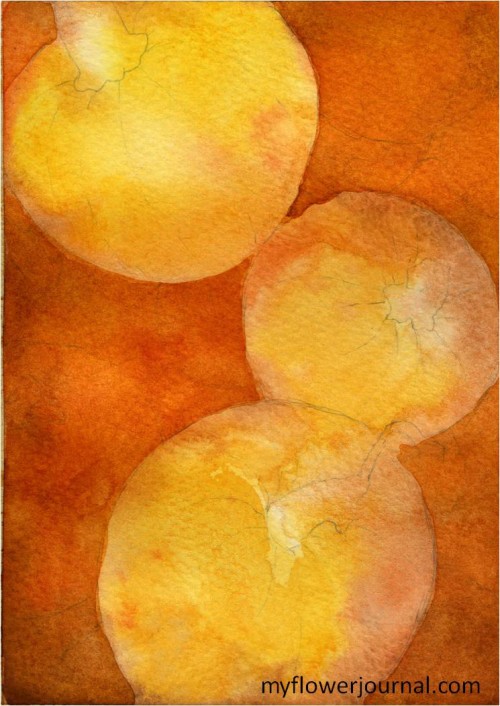 More fall watercolor ideas can be found here.
As an Amazon Associate I earn from qualifying purchases. Many posts on my site contain Amazon affiliate links. I only share products I use and like. I make a small commission if you make a purchase through these links. I helps keep My Flower Journal running at no extra cost to you!
I'll be sharing my Fall Pumpkins in Watercolor on: Paint Party Friday, Art Journal Every Day, Show and Tell Friday, Inspiration Gallery, Masterpiece Monday, Mandarin Orange Monday, Tweak It Tuesday, Inspire Me Tuesday, The Scoop, Wow Us Wednesday, Whatever Goes Wednesday, Tutorials, Tips and Tidbits, Be Inspired Friday, Feathered Nest Friday, Transformation Thursday