Discover the charm of the English countryside with Susan Branch in her new book: A Fine Romance-Falling in Love With The English Countryside. I love, love LOVED this book. In her book Susan shares how she and her husband met and fell in love and how they shared a dream of taking a voyage to England on an ocean liner. Their dream came true in 2004 and again in 2012 for their 25th wedding anniversary. She shares their adventures from their most recent trip to England. They spent 2 months exploring the English countryside visiting quaint villages, gardens, castles, manor houses, tea shops and more.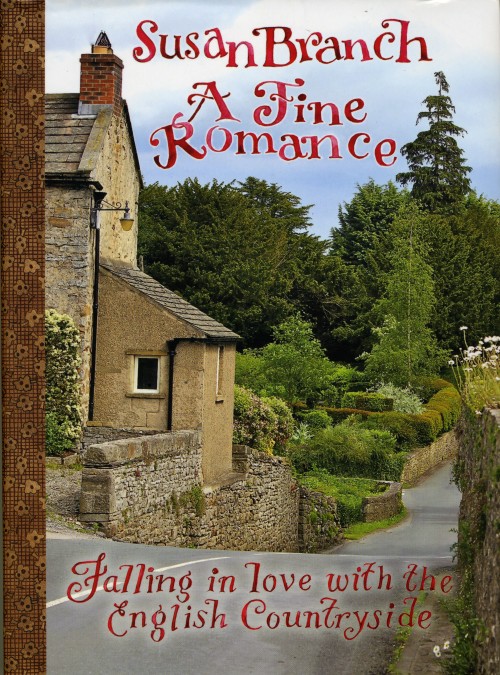 Image Courtesy of Susan Branch.com
Susan shares interesting details about the places they visited, English culture and recipes she gathered. Her book is a feast for your eyes with lots of photos and her delightful watercolor illustrations. It even has a red ribbon bookmark! In true Susan Branch style almost every page has a quote that adds to the charm of the book. She includes a list of inspiring movies to watch before a trip to England (or any time), books that will make your trip to England even better and ideas for music to go with the scenery of England.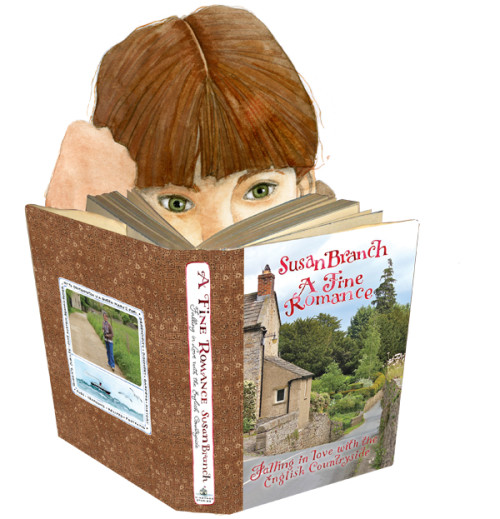 Image Courtesy of Susan Branch.com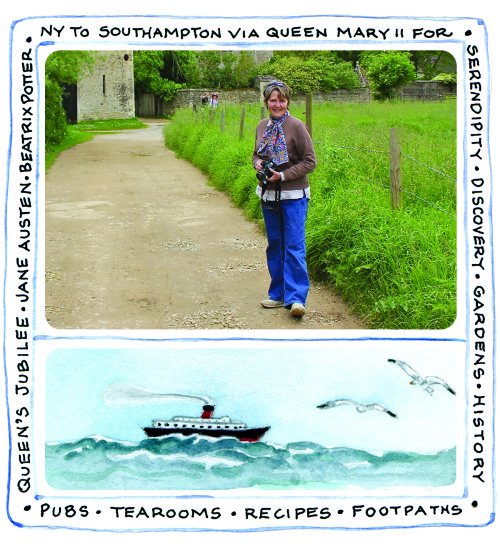 Image Courtesy of Susan Branch.com
 A few years ago we visited many of the same places in England that Susan and her husband explored including Lacock Village. We even took a photo of the same rose covered door that she did in Lacock village. (Her photo is on page 227 in her book in the left hand corner.) This is the watercolor I did inspired by our photo, but I painted the door blue and added more flowers.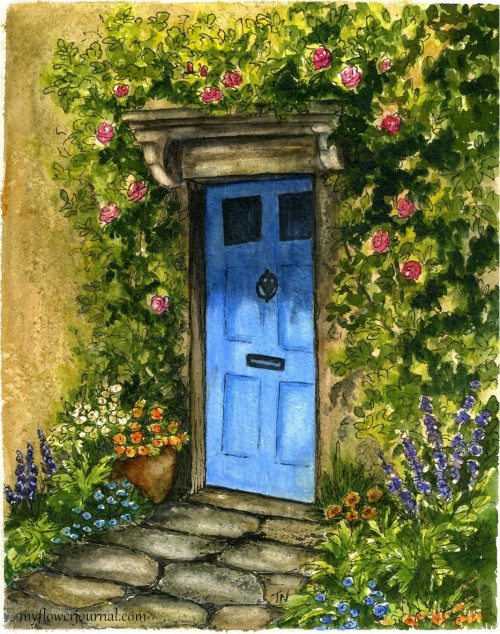 5×7 watercolor in my flower journal
As an Amazon Associate I earn from qualifying purchases. Many posts on my site contain Amazon affiliate links. I only share products I use and like. I make a small commission if you make a purchase through these links. I helps keep My Flower Journal running at no extra cost to you!
I'll be sharing  A Fine Romance: Falling In Love with The English Countryside  by Susan Branch Book Review on Brag About It Tuesday, Wow Us Wednesday, Whatever Goes Wednesday, Be Inspired Friday, Paint Party Friday, Art Journal Every Day, Inspiration Gallery, Blitzed On Pinterest, Inspire Me Tuesday, Tweak It Tuesday, The Scoop, All Things Pretty, Feathered Nest Friday, Show and Tell Friday, Finding The Pretty and Delicious, Artists in Blogland