I recently discovered how fun it can be to do a mint tin oil painting. It is a great way to practice your oil painting skills and create a little piece of art in a short amount of time. Keep it simple so you don't get discouraged working on such a small surface.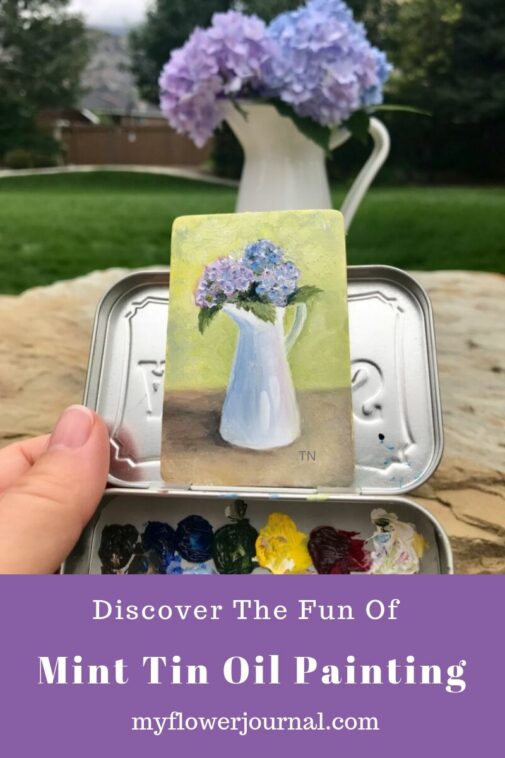 When you purchase through links on this site we may earn a commission at no extra cost to you. This helps us provide free content for you to enjoy.
The first Altoid tin oil painting I saw was done by Heidi Annalise. She has some great tips on her website that I used to get started. I also follow Ashley at Mint Tin Adventures on instagram.
My First Little Painting: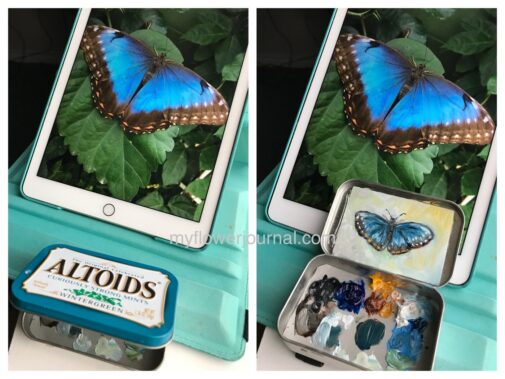 How I painted my second mint tin painting:
When I painted my second butterfly painting I took some progress shots to show how I did it. First I bought some Altoids and dumped out the mints. I washed the tin and put a small stuck a piece of gray palette paper in the bottom with double stick tape.
I covered a 2×3 inch board with 2 coats of gesso. When the gesso was dry I drew my design in pencil using a reference photo I took at the Butterfly Biosphere near our home. I attached the board to the lid of the tin with a mounting square. You could also use a piece of masking tape.
I first painted the butterfly a dark color. Then I added the details of the butterfly working from dark to light building up layers of color. I used two short handled brushes that Ashley with Mint Tin Adventures recommended. You can find them here and here. The last step was to add the background using some of the colors used in the butterfly mixed with white.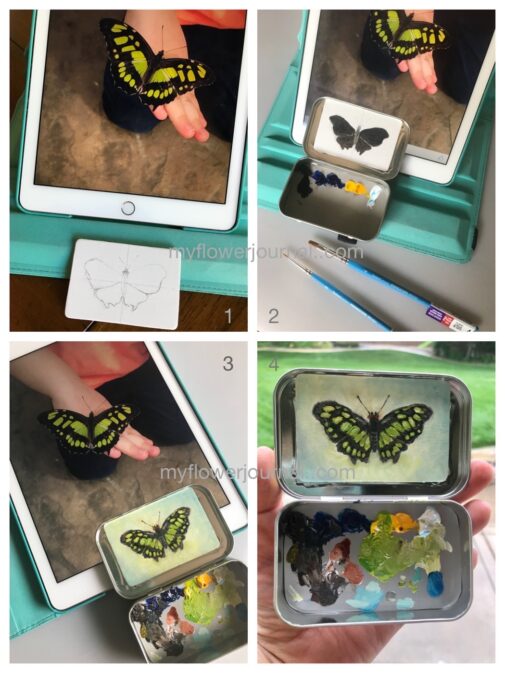 Display your little painting:
You can leave your painting in the mint tin with the paints you used and let it dry and display it that way. Or when the painting is dry put it in a small frame. Mount it on top of the glass or mat board using a sticky square so you don't lose any of the painting behind the frame. The 2×3 inch board fits perfect inside the opening of a 2.5 x 3.5 frame.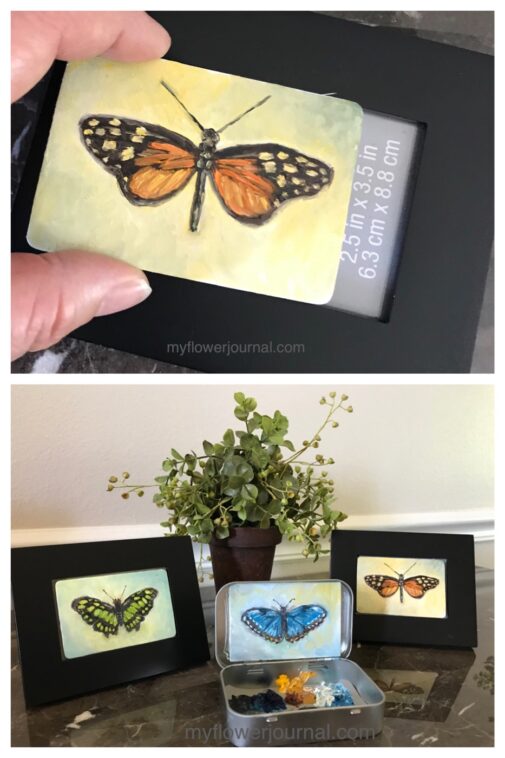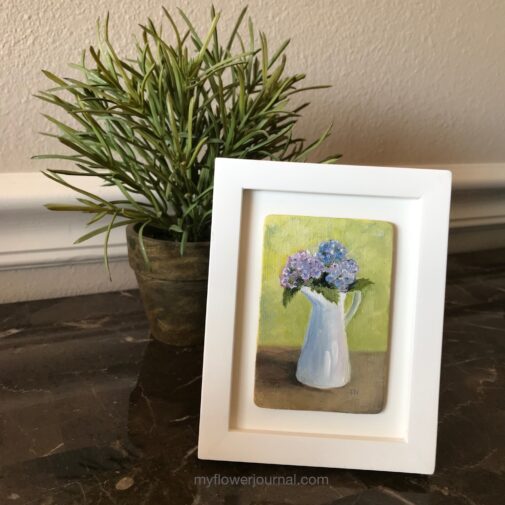 You can see more of my tutorials on this page.
Learn about some of my favorite supplies here.

Take a look at my new website!
In August 2020 I started reading online to my grandchildren, who live hundreds of miles away. A few years and over a thousand books later we are still reading together on FaceTime. I created readaloudgrandma.com to help other grandparents that want to have a rewarding experience reading aloud to children they love!