Bubble Painting! Does it sound like child's play? It is, but why should kids have all the fun? I learned to do bubble painting when I was an elementary school teacher years ago. I have used it many times through the years to decorate cards, gift bags, wrapping paper and to make backgrounds for journal pages. It creates an interesting texture and pattern on paper with a few simple supplies.

You will need: watercolor paper, acrylic paint, dish soap, staws,plastic cups or something to mix the paint in, lots of paper towels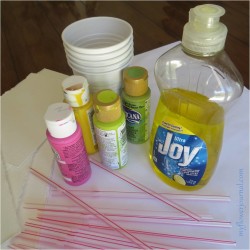 Process: I like to work near my kitchen sink on a protected surface or one I can easily wipe clean. I always wear a paint apron. Decide how many colors you want to use. Fill that many cups about a third to half way up with water. Squirt a couple drops of dish soap in each cup then add some squirts of paint. This isn't an exact science. You may need to add more soap or more paint after you do a trial run. Stir the paint and soap in each cup with a straw.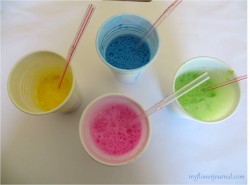 After stirring the paint mixture blow bubbles until they come over the top of the cup. Lay a piece of paper on top of the cup. It pops the bubbles and leaves an interesting painted design on your paper. Use a piece of scrap paper to practice and test the strength of your colors. During this practice session decide if your paint is dark enough. If not add more paint and stir it well. If you need more bubbles add more dish soap. I usually don't need more soap, but often I add more paint. If you start with bright or dark colors you need less paint. Now that you have your colors the way you want create your bubble paintings! Overlap and combine colors to make it more interesting. Make sure you stir the paint mixture well each time before you blow bubbles.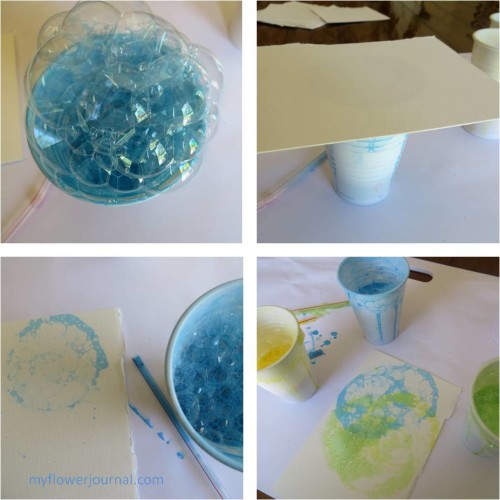 Combining two or more colors can create different looks in your bubble painting.
To create this art journal page I looked for flower shapes in the bubble painting and outlined them with pencil.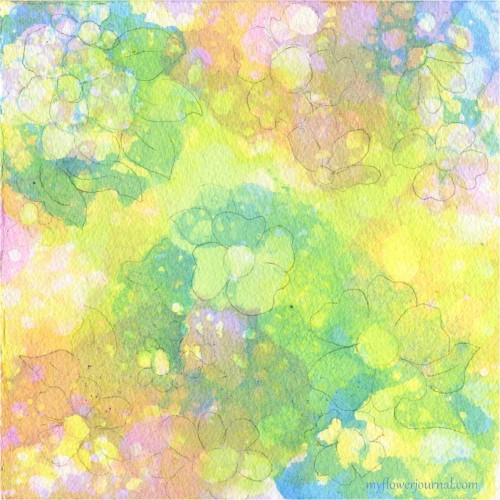 Then I used transparent watercolor to paint the flowers and leaves letting the bubble texture show through when possible. To finish I lightly outlined the shapes with an extra fine sharpie.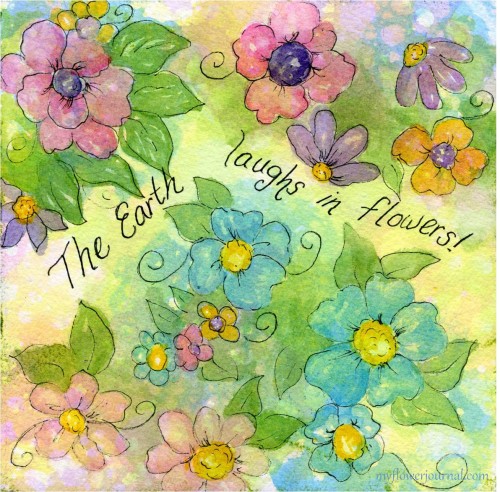 In this journal page I also looked for flower shapes and outlined them in pencil. Then I used transparent watercolor washes to darken around the flower shapes so they would stand out. I added some yellow for the flower centers and green for leaves.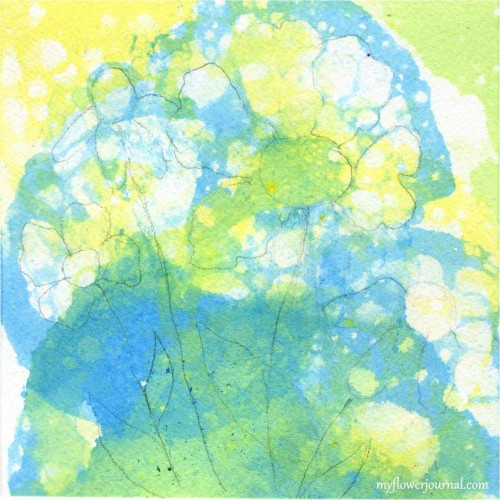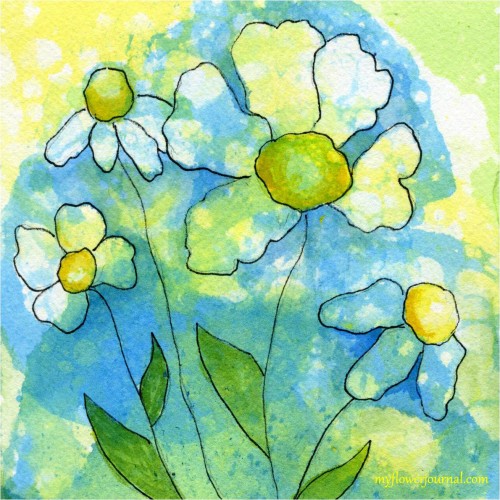 You can also create bubble painting flower art by punching shapes out of paper that has been covered with bubble painting. Use these shapes to decorate cards or journal pages.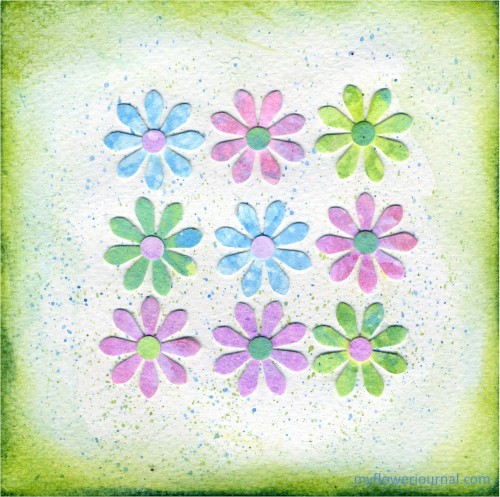 As an Amazon Associate I earn from qualifying purchases. Many posts on my site contain Amazon affiliate links. I only share products I use and like. I make a small commission if you make a purchase through these links. I helps keep My Flower Journal running at no extra cost to you!
I will be sharing this bubble painting flower art on: Wow Us Wednesday, Whatever Goes Wednesday,Feathered Nest Friday, Inspiration Gallery, Show and Tell Friday, Paint Party Friday, Art Journal Everyday, Blitzed on Pinterest, All Things Thursday, I Gotta Create, Pin Me Linky Party, Anything Blue Friday, Make the Scene Monday, Mad in Crafts, Monday Funday, Pin It Monday, The Scoop. Inspire Me Tuesday, Tweak it Tuesday, Amaze Me Monday, Brag About It Tuesday, Two Girls and A Party, Best DIY Projects, Tutorials Tips and Tidbits, I Gotta Create