I belong to a book group with so many wonderful ladies. We meet the first Wednesday of each month September through May. We have been discussing and sharing book ideas for about 11 years. Every September we have our book group in Jennifer's incredible garden. We sit under her apple trees with a view of her cutting garden. Instead of reading and discussing one book she chooses an author we focus on. Over the summer we read as many books as we can by this author. Last year we did Agatha Christie. This year was Mary Stewart. I read Nine Coaches Waiting. It was a great mystery, thriller that took place in a chateau and mountain village in France. A few years ago I read Rose Cottage and enjoyed that one too. After discussing the book, visiting and eating delicious refreshments  Jennifer pulled out a handful of scissors and we all got to go into her cutting garden and cut a beautiful bouquet of flowers to take home!  Good friends in a garden discussing great reads-a near perfect fall morning!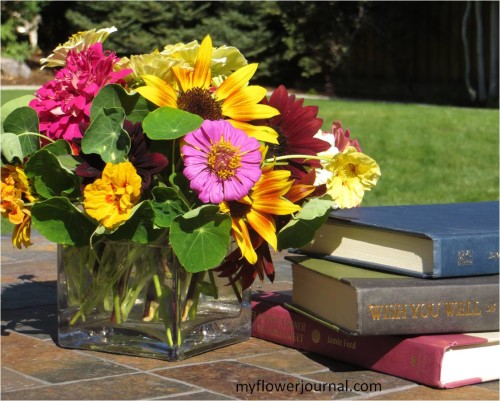 Bouquet I made from the flowers I picked last year!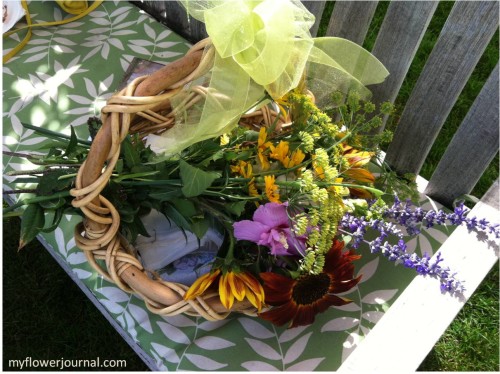 Bouquet my Aunt Jane picked. She brought this basket full of brownies, then used it to carry her bouquet home.
Here is a few of my favorite books we have done over the last few years: Magic of Ordinary Days, Goose Girl, Wildwood Dancing, The Winter Sea, Skipping Christmas, These Is My Words, Light on Snow, Desiree, The Tale of Holly How, Pope Joan. I could keep going , but maybe I'll save some for another post. We've done so many good ones its hard to share them all. Sometimes in January we have a theme we follow. One January everyone brought their favorite cook book and made a dish from it to share. Another January we shared favorite picture books. This has been a fun January tradition because sometimes its hard to get a book read in December for the first Wednesday in January.
I'll be sharing Book Group In The Garden on: Be Inspired Friday, Feathered Nest Friday, Show and Tell Friday, Inspiration Gallery, Finding the Pretty and Delicious, Tweak It Tuesday, Inspire Me Tuesday, The Scoop, Wow Us Wednesday, Transformation Thursday, Tutorials, Tips and Tidbits, Amaze Me Monday, Whatever Goes Wednesday