Its interesting how different things can trigger a new idea. I recently saw an embroidery book and it gave me the idea to add embroidered flowers to splattered acrylic paint. I used to enjoy doing embroidery, but had put that hobby aside as I pursued other interests. It hadn't occurred to me to combine it with splattered paint until I saw a book by Kazuko Aoki.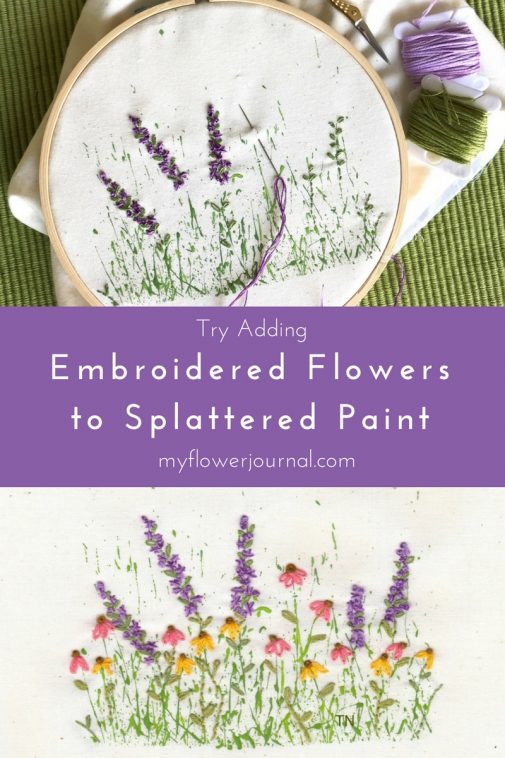 Inspiration
When I saw  the cover of "The Embroidered Garden" by Kazuko Aoki it reminded me of my splattered paint flower art. I wondered if it would work to add embroidered flowers to splattered acrylic paint. It did! My embroidery skills aren't quite as exquisite as Kazuko Aoki's but I am happy with my finished piece.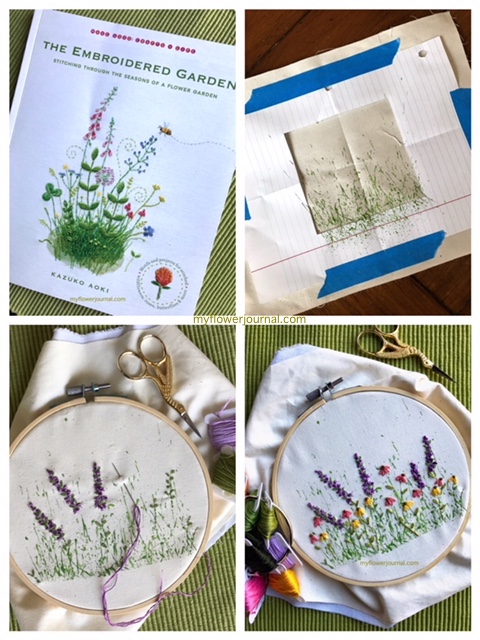 My Process:
Starch a piece of good quality muslin or cotton fabric. Cut it larger than the finished size you desire.
Cover your fabric with a piece of paper that has an opening cut out the size you want your embroidered design. Tape it in place so it won't move.
Splatter acrylic paint using the methods outlined here.
After the paint dries remove the paper and place your fabric in a hoop centering your splattered paint design.
Start adding embroidered flowers and leaves in a random natural pattern. I used three strands of DMC floss for my flowers. On some flowers I used two strands of a color combined with one strand of a lighter or darker shade of the color to give it some depth.The Art of of Whimsical Stitching and Embroidery Pocket Guide, are a good resource along with The Embroidered Garden. 


My Finished Embroidered and Splattered Paint Flower Art!
As an Amazon Associate I earn from qualifying purchases. Many posts on my site contain Amazon affiliate links. I only share products I use and like. I make a small commission if you make a purchase through these links. I helps keep My Flower Journal running at no extra cost to you!