I love to create art and try new craft ideas, but I don't like a mess!  Over time I have learned some things that make the clean up easier for my projects. It's easier for me to start a new project when I know the clean up process won't be overwhelming.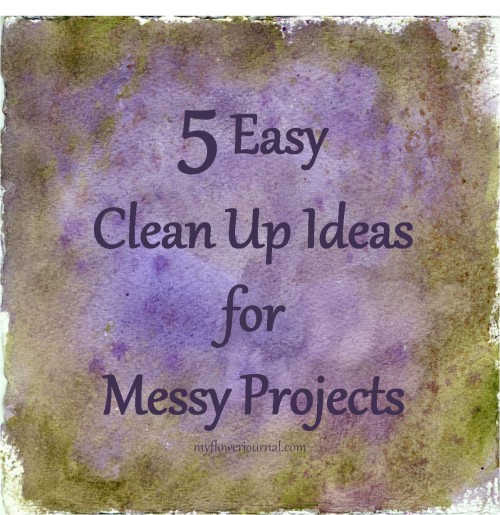 1. Always wear an apron! Wear an apron even if you think you are only going to paint for a few minutes. If your like me a few minutes turns into an hour and I usually get messier than I think I will!
2. Keep baby wipes or Clorox wipes or any kind of wipes nearby. They are great for wiping paint off your hands, stamps or anything else you might get paint on. I also like to have a roll of paper towel where I can reach it.
3. I always have a child's drawing pad (22″x16″) on my art table or kitchen table when I am doing any kind painting or craft project. It protects the surface I am working on and it is great to have a place to test colors or do scribbles. If I don't want to work at my art table I can pile whatever I am doing onto the pad and carry it into the kitchen or outside or wherever I want to be. When the paper starts to get too messy to work on (or when I'm through with a project) I tear the top page off and throw it away leaving a nice clean sheet to work on. With 30 sheets in each pad it lasts quite a while. You can get them at Walmart or Target and they only cost about $5.00.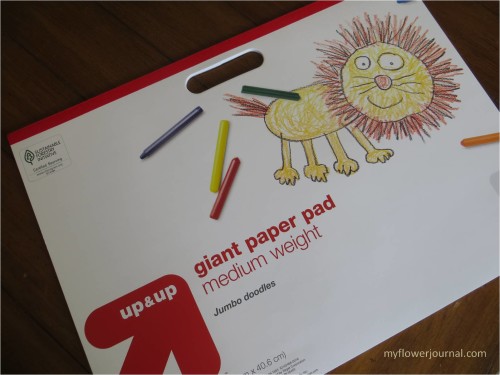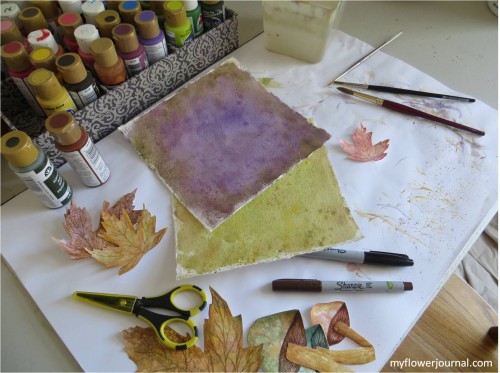 4. Splattering Paint can be a messy project! I finally found a good solution. I bought a presentation board at Hobby Lobby for $3.99. (The kind you use for science fair projects.) I cut it in half and put it around my art pad when I'm splattering paint. It catches the splatters I can't control. Cutting it in half gives me two, but more importantly it doesn't tip over as easy. When I'm not using it I can store it flat.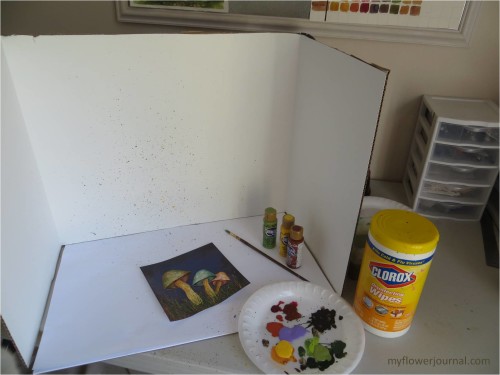 5. Buy cheap plastic tablecloths from the dollar store for big projects when you want the whole table covered. When your done fold the messy part to the inside and throw it away.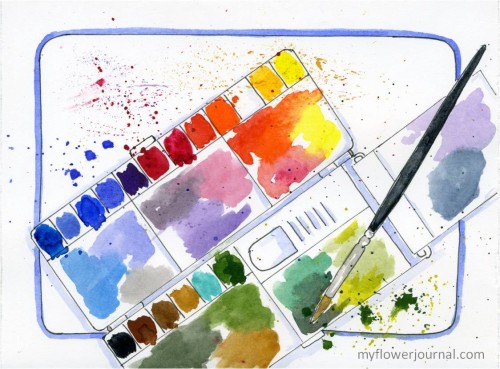 Art Journal Page: A messy watercolor palette can be beautiful!
As an Amazon Associate I earn from qualifying purchases. Many posts on my site contain Amazon affiliate links. I only share products I use and like. I make a small commission if you make a purchase through these links. I helps keep My Flower Journal running at no extra cost to you!
I'll be sharing 5 Easy Clean Up Ideas for Messy Projects on: Amaze Me Monday, A Stroll Thru Life, Tweak It Tuesday, The Scoop, Wow Us Wednesday, Make It Pretty Monday, Transformation Thursday, Tutorials, Tips and Tidbits, Be Inspired Friday, Feathered Nest Friday, Paint Party Friday, Art Journal Every Day, Inspiration Gallery, Show and Tell Friday, Pinning for Play, Finding the Pretty and Delicious